Important Notice:
An update of this review can be found at okgourmet.com .
Red Peppers
5500 Doniphan Dr.
El Paso, TX
(915) 833-0446



Note: This review was written for the location at 910 E. Redd Road, which is now closed. The location at 5500 Doniphan is still open.




Red Peppers is one of a number of suburban Mexican restaurants that compete for customers who are probably saying, "what is so special about this place compared to all the others?" Originally at Red Peppers I thought the real attraction was the salsa bar-- a selection of a half dozen or more homemade salsas. Recently the number of salsas has been cut down making this less of a reason to visit the restaurant, although the salsas now served are of better than average quality.

Without Red Peppers' full salsa bar I have felt that the restaurant does not stand out much from its competitors. However, it is definitely a solid choice for El Paso style Mexican food.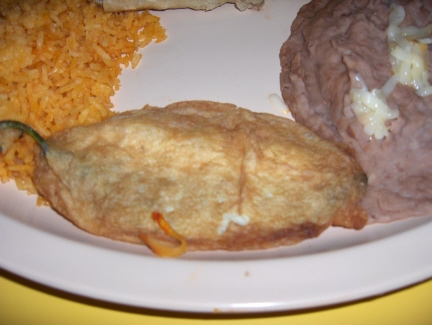 Chile Relleno with no sauce on top
The Chile Relleno has always been a standout item at Red Peppers. The chile is served New Mexico style with no sauce on top. There are so many things about a relleno that can go wrong in inexperienced hands it is somewhat surprising that there are so many good ones in various restaurants. The one here, though, is one of the best. The chile was not blazing hot but had a good flavor and a good heat level. There were no noticeable seeds left inside. The next component was the batter that I thought was done just about right with little grease being evident. A relleno done this well does not need any sauce on top, and in fact I think this is the only thing that would have ruined an otherwise very good item. The culmination of the experience, though, was the melted cheese inside that I thought was just about perfect.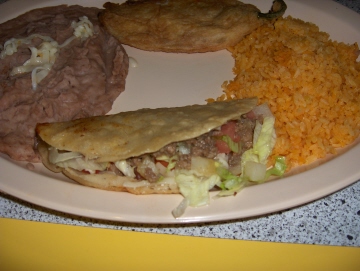 Beef taco at Red Peppers
The Taco is another item I think is excellent, but faces stiffer competition from other restaurants. The one here is made with potato mixed into the ground beef, and although it seemed greasy, it was not overly so. For ground beef this is one of the better tacos, but the question is probably whether you would rather have this one or a taco made with deshebrada or other types of meats served at other restaurants.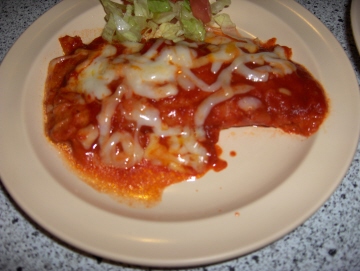 Red enchilada at Red Peppers
Enchiladas are an item I use as a benchmark to judge Mexican restaurants. Red Peppers is different than most El Paso restaurants because of the fact that I thought the Green Enchilada was better than the red. The Red Enchilada is the default used on combination plates (but you can order a green one), and I think it has improved since my early experiences at the restaurant. The red enchilada has all the elements necessary for a good enchilada experience with dark red New Mexico style chile, and it is very good but in my opinion not the best in El Paso. Red Peppers seems to use better than average cheese in all of its dishes including the enchiladas, so there is probably not much difference in quality between the red and green versions.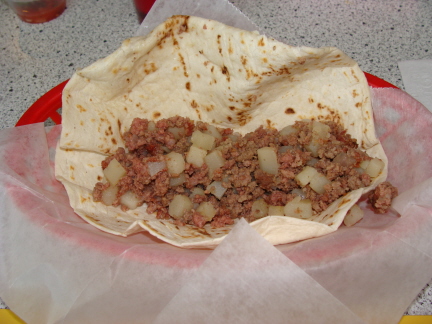 Picadillo burrito
The Picadillo Burrito seems to be similar to the beef tacos except that the potato is not chopped as finely and more spices are added to the picadillo meat (or at least different spices). Probably most of the spice would come from adding salsa from the salsa bar, and this is a good way to make use of Red Peppers' excellent salsa.
Rice had a good flavor and was not dry or overcooked. This was one of the better ones I have tried, although it is hard to find a bad serving of rice anywhere in the borderland.
Beans were not too greasy and were definitely better than at some restaurants I could name. I would say they were made with vegetable oil since they did not have a lard taste.
I have not explored the drinks that are served (I usually order water when the restaurant does not serve home made aguas frescas, as is the case with Red Peppers).
Red Peppers closes at 7:00, and will sometimes tell customers they can only order take-out if they arrive after about 6:45 p.m. The restaurant is clearly geared toward breakfast and lunch, although it is possible to eat dinner if you go early. There is another location on Doniphan Drive just south of Redd Road that may be open later, but I have not explored it.
Since customers get their own Salsa from the salsa bar, it is taken to the table in small individual cups. I did not think it made a particularly good photo opportunity, but it tasted excellent with red, green, and pico de gallo. There used to be a lot more varieties, and I think it is a shame they are no longer served. When Red Peppers first opened it had the best salsa bar in town that blew away Taco Tote (except that Taco Tote had not opened yet). Even with Red Peppers' smaller selection, I still think it competes with Taco Tote.
Go to Index
RESTAURANT DETAILS
RATING: 20
Cuisine: Mexican El Paso
Cost: $$
Smoking: No Smoking
Special Features: Serves Breakfast
| | |
| --- | --- |
| Chile Index: | |
Most Recent Visit
Apr. 29, 2009
Number of Visits: 10+
Best Items
Chile Relleno, Taco, Salsa
Special Ratings
Chile Relleno:


Taco:


Red Enchilada:


Green Enchilada:


Salsa:

MORE ABOUT THIS WEB SITE