Important Notice:
An update of this review can be found at okgourmet.com .
Rosco's Burger Inn
3829 Tompkins
El Paso, TX
(915) 564-9028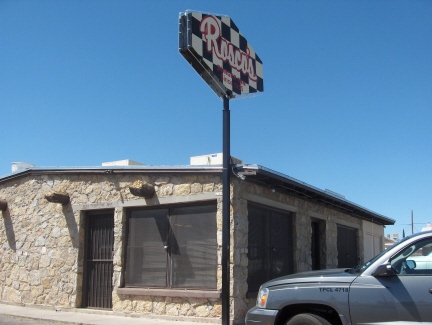 The business card from Rosco's Burger Inn states that it has been "serving El Paso for over 50 years," so just about everyone who has lived in the Sun City knows about the burgers here. What makes Rosco's different is the fact that it hasn't changed since I first started going there (I will not disclose how close my initial visit was to the restaurant's opening).
Rosco's small business card is large enough to list the entire menu: hamburgers, cheeseburgers, hot dogs, grilled cheese, caldillo, chili bowl, meat burritos, fries, and onion rings. Most or all of these are cooked on a large grill behind the counter, and patrons associate the sound and smell of the burgers cooking with the Rosco's experience as much as the good taste of the food. I remember the good flavor of the caldillo on past visits, but the burgers are by far the most popular item.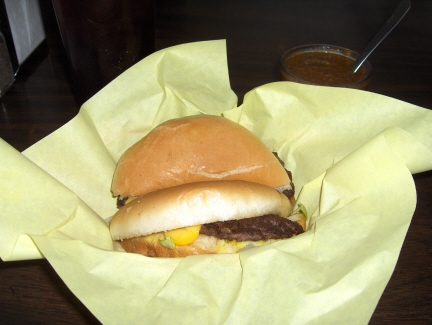 Cheeseburgers at Rosco's are good in their simplicity
The Cheeseburger is probably the best item to try at Rosco's, with the grilled meat, heated bun, and fresh toppings reminding me of the typical burgers that would have been served close to a half century ago (not that I remember that far back, of course). The quality of Rosco's burgers, though, is something that has been lost at so many other places, especially the franchise hamburger restaurants. The meat has real flavor and everything else is fresh. Probably the buns are the one feature that could use some updating from fifty years ago, but they are good.
Burgers come with a choice of a single or double patty, and patrons can choose their own toppings. I recommend getting everything that comes with it, including the cheese.
Rosco's does not have plain iced tea, but rather a raspberry flavored tea that is good if you like drinks that are sweet. Sodas are also available. I do not think Rosco's drink selection is really the best.
I have heard comments from others that they like the food but dislike the dining room, and I cannot disagree. The few tables do not accommodate all the patrons at lunch time, and the counter would be considered uncomfortable by many. As an El Paso institution, though, people do not go to Rosco's for the atmosphere. The cheap prices, though, help take some of the sting out of any lack of comfortable surroundings. The food can also be ordered as takeout, if desired.
I do not know of any place in town that has burgers that I consider more enjoyable.
Go to Index
RESTAURANT DETAILS
RATING: 21
Cuisine: Hamburgers
Cost: $
Hours: Tue.-Sat. 10:30 a.m. to 5:30 p.m.
Smoking: No Smoking
Most Recent Visit
Apr. 11, 2008
Number of Visits: 10+
Best Item
Cheeseburger
Special Ratings
Cheeseburger:

MORE ABOUT THIS WEB SITE