Important Notice:
An update of this review can be found at okgourmet.com .
Santa Cecilia
5500 El Paso Dr.
El Paso, TX
(915) 772-3435

In the 1970's and 1980's when I was making my way through the various restaurants in the El Paso Mexican food dining scene, Santa Cecilia stood out from the norm. Located at the corner of Paisano Drive and El Paso Drive, it seemed to follow the pattern of not relying on the traffic of a major highway, but using the surrounding neighborhood as its customer base. The building's drive-in style, with canopies for parking and a fast food type counter inside was certainly not unique for El Paso's restaurants, so from the outside it may have looked like just another local hangout. The food, though, was not fast food style, but rather followed the slow cooking techniques used in Mexico to prepare the type of tacos that are synonymous with good Mexican food. Thus it was anything but the ordinary "drive in" type restaurant.

While Santa Cecilia's prices have always been higher than at the city's fast food joints, it has maintained the high quality associated with tacos that taste like steaks stuffed into a soft tortilla shell (as opposed to the questionable cuts of meat and fried hard shells used by some restaurants). In the 2000's slow cooked Mexican styles enjoy wide popularity throughout El Paso and in many parts of the United States, but a few years ago Santa Cecilia was one of the few places in the Sun City where this type of food could be found. El Paso had its upscale Mexican restaurants and fast food Mexican, but Santa Cecilia provided food that was more in the traditional Mexican cooking style than the "El Paso" style of food that was found in most of the upscale restaurants.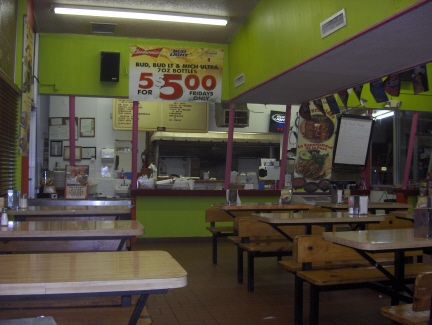 Santa Cecilia cooks its meat on a grill behind the counter
Although Santa Cecilia has a fast food style counter, orders are taken at the table unless customers are placing orders to go. Beef and pork tacos are the specialty of the restaurant, with large orders suitable for feeding an entire family. Side orders are usually served separately. Santa Cecilia is not big on vegetables, with radishes, onions, and a cilantro garnish providing more flavor than substance to most meat orders. Specials are offered during the week for different types of tacos, but most of the meat is prepared as tacos al carbon, diced meat grilled over charcoal and served on soft corn tortillas. The now popular fajitas served at many restaurants are a variation of this type of meat, prepared with different cuts and different spices blended in, but the restaurants serving tacos al carbon seem to be consistently better than the ones serving only fajitas.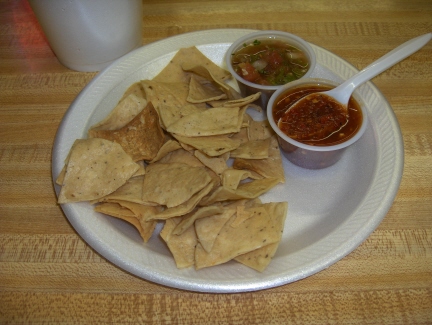 The chips at Santa Cecilia taste home made and are about as good as they come
Meals start out with Chips, and these are the thick, home made style tortillas that are toasted just right. Both a red salsa and green pico de gallo are served, giving a flavorful and spicy start to the meal.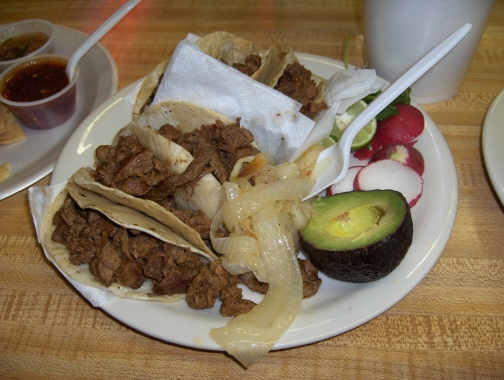 The tacos al carbon are the specialty of Santa Cecilia
Tacos al Carbon come four to the order, or you can get a large platter served family style where each person can make their own. Obviously this is the specialty of the restaurant, with meat so good people are willing to pay higher than normal prices for a Mexican dinner. I would go further and say that none of the newer taquería restaurants I have tried match Santa Cecilia for the beef tacos. This seems to be the best place in town, and probably one of the best places anywhere, to try them.
Pork tacos are also served, with tacos al pastor being one of Santa Cecilia's specialties. I have not tried them, but I would suspect they are as good as the beef.
A fresh avocado half is served with each order, forming an almost indespensible part of the flavor combination.
Over the years the restaurant has changed from serving grilled green onions to grilled white onions, one of the few areas where I can really say Santa Cecilia does not provide the special experience that it used to do.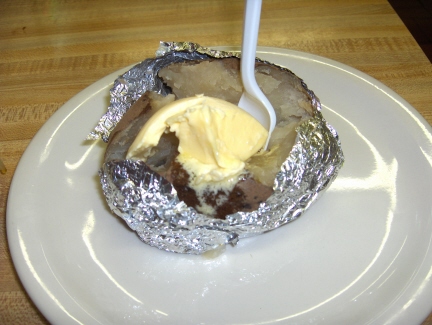 Baked potato at Santa Cecilia
I have come to expect a Baked Potato with a tacos al carbon dinner, largely because of having tried this dish first at Santa Cecilia, where potatoes were served as part of the meal (now they usually cost extra). The potatoes here are cooked just right, and are served with a mound of butter that turns out to be not as rich as it looks (which is better for my arteries).
Ay Cocula has the same owners as Santa Cecilia and serves the same type of tacos, but I think with an expanded menu to include a lot of additional dishes. I have not been to the Ay Cocula on Lee Trevino Drive, but when there was one on Mesa Street I did not think it provided quite the same experience as eating at the original Santa Cecilia. I still think it is worth the drive to the central part of El Paso to at least give Santa Cecilia a try. It is truly an El Paso classic.
Go to Index
RESTAURANT DETAILS
RATING: 23
Cuisine: Mexican Chihuahua
Cost: $$
Smoking: No Smoking
| | |
| --- | --- |
| Chile Index: | |
Most Recent Visit
May 6, 2008
Number of Visits: 10+
Best Item
Tacos al Carbon
Special Ratings
Tacos al Carbon:


Baked Potato:


Chips:


Salsa:

MORE ABOUT THIS WEB SITE