Señor Fish
9530 Viscount Blvd.
El Paso, TX
(915) 598-3630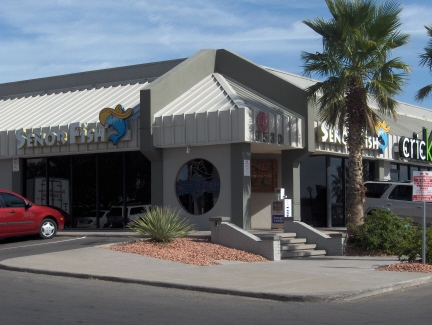 I am torn in my opinion about Señor Fish. On one hand it is hard to believe fish tacos can be so good this far inland. On the other hand the fish in El Paso is nothing like I experienced in the Gulf city of Matamoros, Mexico, with both the freshness and variety of fish lacking in the desert Southwest.
Señor Fish is not El Paso's only Mexican seafood restaurant, but it is one of the oldest. I think this type of food was first served in Ciudad Juarez, where they had a tradition of trucking in meat and seafood as well as fresh fruits and vegetables on a daily basis rather than the frozen and processed food that was more commonly shipped in the United States. Now El Paso seems to have access to fresher food than just a few years ago, with one consequence that fish is as common as most types of meat. It may not be like fish served in seaside cities, but it is a lot better than it used to be.
At Señor Fish the side dishes are one of the main things that sets it apart from other seafood restaurants. Meals start off with complimentary chips that are thick (Mexican style) and cooked just right to a golden brown, along with a puréed green chile salsa. These are some of the best I have had in El Paso.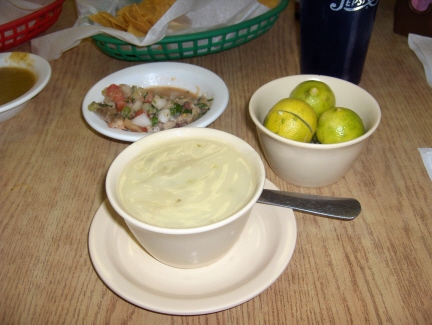 Meals come with clam chowder or fish soup
Next comes a fish soup or clam chowder as part of the meal (including taco orders). The Fish Soup was the only item that I thought did not match up to other restaurants--with a slightly fishy taste and possibly too much chile added, it was enjoyable but not notable. The Clam Chowder was much better, with a small amount of clams but good quality and a fresh sauce.
The French bread served with the soup almost makes the meal worthwhile by itself.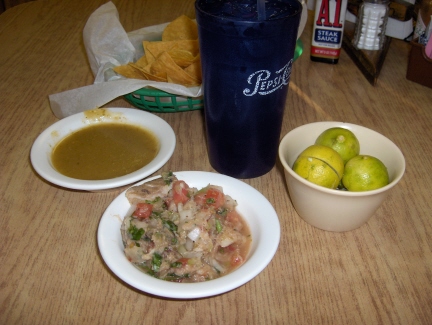 Ceviche is complimentary with meals
Ceviche is served free with meals, but would be worthwhile even if you had to pay for it. I have not determined which ceviche in El Paso is best, but I think the one here is good. I did not get ceviche with my taco orders, but I think that has now changed so that it is served with all meals.
If you have the idea that an order of tacos may not be enough food for a dinner, such notions do not apply to Señor Fish. An order of three giant Fish Tacos is not only ample food, it is much larger than other fish taco plates served in El Paso. The fish itself is nondescript--it is the standard pollack served in this type of restaurant. In fact, its lack of taste may be a good thing, since it is also lacking the "fishy" flavor found in almost all restaurants in El Paso and throughout the Southwest. The fresh avocado, pico de gallo, and small amount of tartar sauce, served on fresh tortillas, provide a good compliment of flavors to the fish.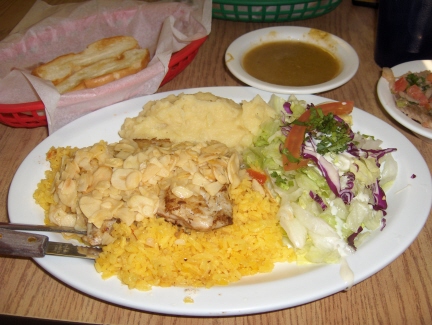 Filete de pescado with garlic
Fish fillet plates are another specialty of the restaurant, with several serving styles available. A waitress recommended that I try the Garlic Classic style of the filete de pescado, known as filete al mojo de ajo in Spanish. This does not have just a little bit of garlic, it is literally covered with pieces of garlic that are mild enough that I think you could eat all of them if you want. While the pollack fish fillet is not my favorite type of fish, it tastes better when it has a strong seasoning such as the garlic. I thought the fillet was enjoyable, but probably no more so than the tacos. Other classic styles are available such as Veracruz and ranchero.
Whole fish is also available that probably has better fish, but also is a larger portion. I could not eat all of the fillet plate, and in my way of thinking the whole fish should probably be shared by two persons. The black bass that is served, though, would be more typical of the classic Mexican fish restaurants, and I think would be better than the pollack.
Specials are available certain days of the week, such as shrimp cocktail that is served Mon. & Tue..
The fresh Lemonade is made Mexican style; very thin and not as sweet as American lemonade. Horchata and beer are also available.
The mashed potatoes, bread, and salad that came with the fillet dinner were almost better than the fish (in fact, I would say they were the best part of the meal). Likewise with the tacos I enjoyed the combination of all the ingredients (tortilla, toppings, salsa, and side dishes) more than the fish. I am almost ready to say the reason I like Señor Fish is not because of the fish. I have not tried the black bass, though, and the ceviche was good. Between the tacos and fillet, I preferred the tacos.
Señor Fish is located right on I-10 (it is strange that the address is on Viscount, since it faces Gateway West). Right next door is the east side Andale restaurant that is much larger and more popular. The patrons of Señor Fish, though, seem to be very devoted to the restaurant and not the least bit concerned about what the larger crowds are doing. I would not say to avoid the other restaurants in the area, but Señor Fish would be worth a try if you are in the mood for this type of food.
Go to Index
RESTAURANT DETAILS
RATING: 20
Cuisine: Mexican Seafood
Cost: $$
Hours: Open Daily
Accessible: Yes
Smoking: No Smoking
Alcohol: Beer
| | |
| --- | --- |
| Chile Index: | |
Most Recent Visit
May 8, 2008
Number of Visits: 4
Best Items
Ceviche, Fish Tacos, Fish Fillet, Clam Chowder, Lemonade, Chips & Salsa, Bread, Mashed Potatoes
Special Ratings
Fish Tacos:


Fish Fillet:


Clam Chowder:


Fish Soup:


Chips:


Salsa:

green
Lemonade:

MORE ABOUT THIS WEB SITE