Orting Index   House  Views   Creeks   Trails   Forests  Rhododendrons   Herbs   Other Plants

Back to the Anderson Garden in Enumclaw
Orting Rhododendrons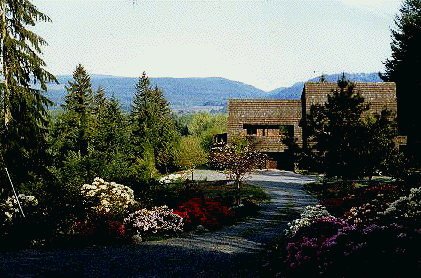 Rhododendrons lined the approach to the house in 1985. The knob the house sits on was too dry for them, so this area was used for herbs. Most of the rhododendrons are now planted on the steep bank toward the creek.
Some of the rhododendrons grew on top for awhile, but it was too hot, dry, and sunny for them over the long run. In time, we moved most of them over the edge, where they thrived.

See this same location several years later under Other Plants.
| | |
| --- | --- |
| | The open shade, fertile soil, and mulch of leaves and needles on the steep slopes to the creek provided good growing conditions for about 100 rhododendrons. They never needed watering or fertilizing, and by 2000 reached a height and density so that the paths were like tunnels under them. |
This large China outside the master bedroom has survived to this day on the top of the knob. We watered it periodically in the summer.

The only other rhododendrons we kept on top were Mrs. Tom Lowinski and decorum.