Cruising Log of the Murrelet
#10 MAC26X BOATS ARE SPARTAN
[First Page] [Next] [Prior] [Last]

The above slides represent over 70 days of living aboard
Murrelet while visiting destinations from Olympia to Port
Hardy. Our cruising style included overnight
accomodations at resorts every 5th day or so and car
rentals from time to time. We made reservations by cell
phone. If the facility was booked up, we took advantage
of the resort marina, or continued to the next destination
or a gunkhole. All in comfort. 900 lbs of gear.

Sure you can purchase a Mac26x in a lean (Lear jet) configuration. Perhaps that is what is wanted for racing or to reach 17 MPH under sail. You can also load her up with dealer and third party options. Mac26x vessels are cruiser-racers rather than racer-cruisers so there are plenty of comforts available including some that have (with the Bayliner sailboat exception) been reserved for power boats.

But 20 year old used racer-cruisers (like the Catalina 30) are often lavish and priced in the same range as a new Mac26x. When you look at used sail boat prices, in general, you find wide ranges of asking prices for the same model and year vessel. The reason is obvious when you board them. They are fitted out differently.

One joy of new boat ownership is the prospect of modifying her to personal taste in the years to come. I added a SportPilot autohelm in 2001 and radar was made operational in early 2002. These were wired to a GPS in 2003 and in 2004 the full cockpit enclosure was installed. My wife had the dealer install a shower drain. Murrelet certainly is not Spartan and at least a part of her will always be new. Since I am of the opinion that a new Mac26x will be more seaworthy than most 20 year old boats, new with many options was the way to go for me. Click on the photo to start a slide show (Java required).

To search this site enter a word or phrase below:
---
"I'm occasionally asked if I miss the larger, deep draft sailboat. The answer is always no. That type of craft now seems to me like a helpless one-legged seabird soaring above the surface of the sea, never able to safely land or seek shelter."
Ron Hoddinott
Small Craft Advisor
March/April 2006 issue, pg 26
The Mac26x should be viewed as an advancement from other sail boat designs including but not limited to Trekka - the first "big dinghy" to circumnavigate the globe (1955); the Etap 23 - the first unsinkable yacht (1973) [Sailing Today March 2001]; the Dehler 25 - arguably the first water ballasted sail boat 1985 [Sailing Today September 2000]; the Lancer 44 performance motorsailor - winner of the 1980 Ensenada Race and noteworthy pocket cruisers such as the Hunter 240 and Catalina 250 [Sail December 2000].
The Mac26x should also be compared to the Catalina 30 which was the most popular cruiser until the Mac26 was introduced. It is important to also compare the vessel to the Bayliner sailboats that were initially rejected by the sailing community owing to power boat company roots (1955) but have since found acceptance owing to creature comforts common in power vessels and the 27 - 36 foot Corsair trimarans. Practical Boat Owner in August of 2003 compared the X cruiser to the Odin 820, the Dufour Duos and the Finnish Vi:Ta which are roomy variations on the X power-sailer theam, the first being designed and built by former X dealers in Germany and Poland and the later two being commercially unsuccessful.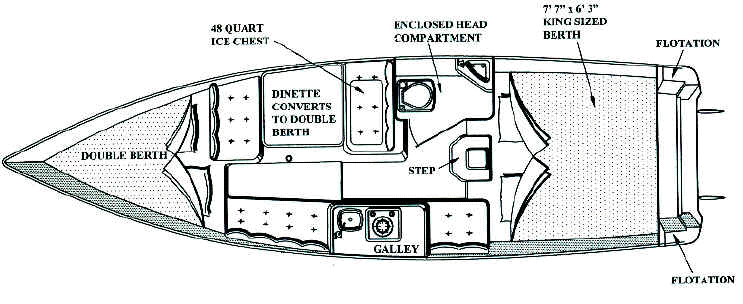 The above is the interior plan of Murrelet. She has a powerboat like step that in later models was replaced with a ladder which is more common on sailboats. The layout is what a power boater would expect and in the US 3/4ths of all boaters consider the power boat style preferable.

[Top] [Next] [Prev] [Bot]

There is no need to forgo luxury while sailing. The best restaurants and resorts are usually by the water. We take advantage of shore based accommodations at least once per week while cruising and there are no better on any vessel at any price than those available on shore when expecting bad weather or after a hard long passage.

We usually find that there have been cancelations at the resorts when weather is predicted to be bad. When the weather is fine, the view from Murrelet's below deck table or cockpit while dining can be better than that available on shore. When that happens it is time to visit the local market or bargain with fishermen. I do admit to having the best meal (garlic shrimp and salmon) aboard a boat. It has inspired me to learn how to fish.

On a long passage, without a large crew, there really is little time for luxury. The point is that the factory "refrigerator look" interior of the Mac26x does not imply a lack of luxury in comparison to other under 40 foot and even larger sail boats. Crew appreciate shore leave and the most wealthy mega yacht owner may bunk aboard very infrequently. Does anyone really find luxury on a boat? Boats are not really about that.

The notion of designing a vessel from a luxurious interior out doesn't sit well with me yet this is likely the situation with the Odin 820, and to a lesser extent the Mac26m. Some notes on boat design and trailer-style living are provided below.

Prior to launching the X, MacGregor Yachts produced three Mac26 sailboats, each with different keels, and a Mac19 powersailer and likely generated many computer designs, all with layouts that are traditional for sailboats (for example less boxy than the X). This process is considered a radical progression in boat design. But MacGregor Yachts is not the first company to apply the rapid design approach (common in software engineering) to boat building. Sadler built 300 Sadler 25s in the 1980s with different keels before producing the Sadler 26. [Sailing Today March 2001]

It is possible that the Mac26m, lauched in march of 2003, was designed for the most part prior to the Mac26x launch in 1996. In other words, one might consider the M to be the second generation powersailer though in chronological order she is the third. This is supported by at least one physical model that is known to exist for the M.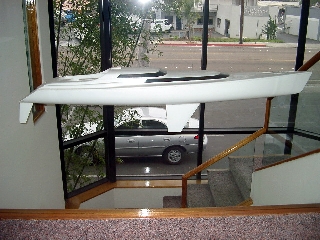 Prior to computer modeling, it was standard procedure to create physical models for distribution to boat reviewers and to analyze during the manufacturing process. The building of such models became unnecessary with computer aided design (CAD) and as far as I know, no physical models for the Mac26x were ever produced. The photo to the right is an example of a physical model at the MacGregor Yachts factory. Typically different foil and stern configurations would be created for such a model.
The existence of such a model for the Mac26m, while not conclusive, does support the notion that the M represents an early effort of MacGregor Yachts prior to investment in CAD and the development of the Mac26x. Perhaps the intent was to create a Mac26D with standing head room, or as discussed above a multihull. There could be Mac26a's or the amas (outer) hull models for combining with the Mac26m or middle hull in a trimaran configuration. Such a design effort, if it took place, would have been around 1994 when Corsair Marine trimarans were launched. In any case a different (more traditional - and less rigorous from an engineering perspective) process was used in the development of the M than was used to design the X. This is evident by later addition of solid internal ballast first in sand/resin and later (according to Perry) lead/lead pellet form. The process involved give and take with dealership/ distributorships who likely requested certain interior and foil features but may not have engineering or sailing credentials. Sharp Marine Industries, Inc was actively involved in the design and initial production of the Mac26M.
The M combines features of the Mac26D (Classic Daggerboard) and the Mac19 and is substatially more sailboat like in the interior. The exterior of the M also is more sailboat like, sleaker and better looking by even my eye than the form of the X, though the X form is more functional. By the end of 2003, Sail magazine, in the 2004 Sailboat Buyers Guide, noted that only 300 Ms had been produced. This is one third the number estimated by others, including myself, and not representative of the kind of success needed to justify the halt of Mac26x production or the claim that the M is a replacement for the X.
Volker and Gerda Lamprecht, the German home interior design couple, and X dealers, gave birth to the Oden 820 and may hold bragging rights for a powersailer that is a replacement for the X. I seriously doubt that interior designers can - on their own - design a vessel that both powers and sails well. Hence I suspect that Roger MacGregor was part of their design team just as he has been reported to have been part of the team that developed the M. Unfortunately both the M and the Oden 820 are not meant to be sailed unballasted. The term to be used in describing this kind of a sail boat is a fixed water ballasted sailer. The X is a movable water ballasted sailer. The movement is on an off the vessel.Unballasted operation for the Oden 820 is reserved for motor only operation and shortly after the introduction of this vessel in the US (as the Mast 28), safety restrictions regarding the M motoring unballasted were removed as was the odd notation that while the vessel could sleep six the maximum crew size was four. The X is engineered to both motor and sail unballasted, sleeping six and carrying up to 10 (by PHRF racing rules - no manufacture limit was ever established) (see video). Like the Oden 820 the X has a sailboat planing style (likely Dribbly) hull form. The M has the powerboat V form favored in sport power cabin cruisers. If the deadrise were just two inches more the M would with out a doubt be a sport power cabin cruiser competing directly with Bayliners.
In its first year of operation an Oden 820 suffered a capsize with 9 thousand british pounds of damage, likely to the posh interior, yet she is very much in demand and US and Mac26x dealerships now sell both Mac26m and Mast28 vessels. Like the Mac26x, the Oden 820 can be fitted out with 70 hp engines. The M owing to its captain's seat requires a modification to support a 70 hp and has the stability or hull form needed to make effective use of the more powerful engine. Dealers in the US sell the Mast 28 for 45,000 US which is comparable to a power boat with similar accomodations or a trailer home. The Mast 28s are CE marked which has been estimated by one Mac26m dealer to be worth at least $10,000. CE marking allows boats to enter EU waters with out threat of confinscation or need for exemption.
Articles in sailboat magazines sometimes have a Jimmy Buffet theme. Jimmy is the "son of a sailor" who is "just glad" he doesn't live in a trailer. The comparison of a boat to a trailer home is a natural one and Macgregor yachts specifically points out that the Mac26x can be used like a Recreational Vehicle (RV) when on its trailer.
Unlike an RV, however, when the park is crowded or full, owners can launch and anchor in uncrowded conditions, the RV then becoming a Recreational Vessel rather than simply a vehicle. John Guzwell of Trekka expresses a similar theam to Buffet's. Trekka did not have standing head room and, when asked if he felt that confining, he noted that he could always go topside when wanting to stand upright. Both Buffet and Guzwell separate the confinement one finds in a trailer home from the freedom one gets from their boat. This notion is somewhat lost on those who refer to boats (such as Bayliner's Buccaneer) in a derogatory way which is often implied in the terms RV and it's companion word - boxy.

The production boat designer must be stressed constantly over the issue of what will sell vs what will really meet the needs of the recreational boater. The human engineering task in boat design is a huge one. Many, owing to Buffet and sailors like him, prefer the racier look of the Mac26x because it is almost the opposite look of an RV. White liners and unfinished storage compartments on the X are what you find on racing sailboats. Twin rudders with unfinished exposed controls and a wide fan tail are found on ocean racers. Color and finishing play a big part in attracting purchasers.

[Top] [Next] [Prev] [Bot]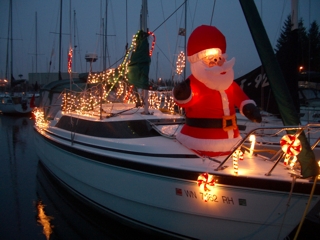 The factory-provided-creature comforts on all Mac26x cruisers are done in pastels. (Mine are light blue with pinkish overtones). Pastels are known by careful study to attract older purchasers and it appears that Mac26x cruisers are owned by individuals who have had experiences with other boats, many owners retired or older active military and military contractors and engineers.

Contrast this with the earth tone "lounge" look of classic sailboats that is often referred to as the wood look. This has been found by human engineer studies to appeal to young purchasers. Earth tones appeal to young women and the lounge look to young men. Hence young newlyweds often can agree on the desirability of the Mac26m kind of interior.

When appeal to a target group is the design goal, rather than seaworthiness, efficiency and recreational purpose, there will be disappointment in the vessel after some period of time. Designing a boat such as the M and possibly the Oden 820 with contributions from many is a technique that isn't favored by boat reviewers, or the US Navy. Often, as is the case with many of the Beneteau and Hunter sail boats, a committee is formed to compete and win a design contest. The first relevant example for this discussion involves the Tasars.

The designer of the Laser and designer of the Tasar were successful in bringing out the Laser II, which my dad sailed. However, when they formed a larger group to develop the Laser 28, which included Bruce Farr, to provide a sailboat that "would offer more comfort and more room for growing (Laser/Tasar) families", the result was satisfactory only to a small niche group of boaters. I often wonder who were the design teams that competed for the Laser 28. In anycase I very much agree with reviewers and the US Navy that superior engineering isn't likely with such an approach. I believe it best to start with superior engineering, as in the Mac26x, and then let owners add features appropriate for their families.

The second relevant example is what I think happened in the design of the M. Many owner's spouses will complain about lack of standing head room on a Mac26 classic or similar trailerable sailboat. The solution is sometimes to trade up for a larger water bound sailboat. This is often done by the 5 foot more every 5 year rule.The Mac26m meets the standing head room requirement and appeals to that niche of sailors. But for growing Laser/Tasar type families speed is required even in the absence of wind for the schedule requirements of a family and hence powerboats become favored. The 26m and Oden 820 adress this however features, like dinettes, showers, and stability when dockside, for child raising are only met with the Mac26x.

With a mac26x powersailer and unlike the first and third generation boats, the interior is already powerboat like. The trading up to a different boat with powerboat creature comforts is less likely because of that. Instead Mac26x owners will add features appropriate for their families.

Improvements are made continuously to the Mac26x which means that new boat owners benefit from the experiences of the pioneer owners. But early purchasers of the vessel also benefit either from warrantees or from proven to be of value upgrades. The upgrade potential appears to be reflected in used Mac26x prices. The vessel holds its resale value.

As demonstrated by the photos above (not my cruiser), while one might argue with the means, the end result is an unsinkable high tech yacht, likely capable of circumnavigating the globe as well as winning a few races. After making some of the numerous potential upgrades and fitting out the Murrelet with desirable dealer and third party options (including 110 and gel batteries), I do not view anything except a 40+ footer or possible a multi hull (power or sail) as a substitute recreational vessel. I suspect that, for a crew of two, the Mac26x is a great blue water boat.

[Top] [Next] [Prev] [Bot]

The October 2001 Blue Water Sailing magazine's Annual Gallery of Great Blue Water Boats puts comfort high in importance for ocean cruising. The issue states "...in the U.S. market it is difficult to find many true (emphasis from the issue) offshore boats under 40 feet currently being produced." Because the magazine apparently uses the comfort ratio in identifying a true offshore boat, discussion of this metric is warranted.

The comfort ratio was developed by Ted Brewer tounge-in-cheek and hence really should not prevail above other ratios in the identification of a true offshore boat. Also called the motion comfort ratio, the idea behind its development may have been to identify boats where occupants are likely to become sea sick. It is widely used in comparisons between cruisers - which is unfortunate because new boaters are don't realize the whimsical nature of the ratio.
Blue Water Sailing views high comfort ratios (50 or above) representative of "sluggish" vessels, where the duration of the uncomfort is possibly extended, and low comfort ratios (20 or below) representative of "jerky motion" vessels, where while the duration of the uncomfort is shorter its intensity may be viewed as high.
So for ocean use the motion comfort ratio range of 20 to 50 appears representative of true ocean cruisers by Blue Water Sailing magazine standards. The Mac26x when loaded for most ocean endeavors is in that range.
Displacement on a Mac26x ocean cruiser will include not only water ballast but also allowance for 85 lbs per person per week of food and fresh water (rule of thumb) as well as personal gear and safety gear/ extra fuel for ocean passage and anchor tackle. The weight of the crew is also part of the displacement. While the total displacement changes while cruising it is unlikely that "jerky motion" is going to be a valid description of Mac26x ocean behavior. Brewer recognizes that sails when up reduce uncomfortable motion and water-ballasted boats take rough conditions with significantly more comfort for their crews. Since I am reluctant to call any boat that can capsize and then sink ocean worthy, I am inclined to consider most monohulled sail boats (MacGregors, Poters, and Etaps being the exceptions) as deficient for ocean crossing work. Manufacturers of sail boats that can sink need to rethink their classification schemes which are misleading. Should any sail boat without solid flotation really be classified as "open ocean capable of withstanding hurricane"?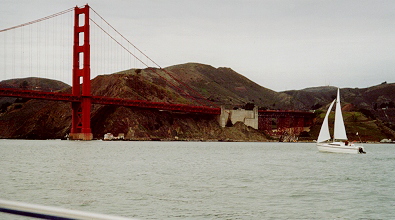 The previous 3 pictures were taken from my sister's Catalina 42. Our experience the day after Thanksgiving 2001, showed us that ocean swells of 10 to 15 feet are handled well by small vessels. The Atlantic Trader was about 30 minutes from the Mac26x Bonnie Bell. We hoped to observe the Mac26x outside of the gate but she turned in the slot before the potato patch.

In 2002 Murrelet embarked on a circumnavigation of Vancouver Island, where I hoped to observe first hand Mac26x ocean behavior. The crew was distracted by warm weather and whale and bear watching and hence the only ocean swells dealt with were those blown into the Strait of Juan De Fuca and Haro Strait.

Our experience showed our Mac26x cruiser to be sturdy and duck like in waves that are large enough for the propeller to be lifted out of the sea. What this means is that Murrelet bobbed over large waves rather than slicing through them like my sister's Catalina 42.

A technique for surfing the waves was developed. At conclusion of a rough Haro Strait passage, we noted that our cruiser had reached 17MPH during the motor-only fully-ballasted lots-of-surfing crossing. I was able to compare our experience with that of a distressed 34 foot sailboat captain whoes crew abandoned him once reaching port owing to sea anxiety. It was apparent that our Mac26x cruiser did much better than other recreational boats (sail or power) that day. My wife and I hope to complete the Vancouver Isl. circumnavigation by trailering. A mini transat (smaller than a Mac26x) completed the Van Isl 360 race in 2005 and several Mac26x cruisers have circumnavigated the island so this work is well within the capabilities of the vessel, it can now be said proven for this work.

[Top] [Next] [Prev] [Bot] Click on Photo Below For Slides

Just after sundown, Mr. Murphy called, first knocking from someplace under the cover of the outboard. We had not fooled him. Fridays are well known to be unlucky for the start of any major boating endeavor.

I prefer to take Murphy on at the tavern rather than on some sand bar, and this is especially true on a Friday evening, so the course was reversed, Murphy rapping loader and loader now at low RPMs. The 26 foot vessel Murrelet, would spend at least one night at Gig Harbor.

A cell phone call to the shore crew who had just completed shopping for provisions in Seattle yielded plan one. After a good night sleep and in daylight, the plugs on the motor would be replaced and if Murphy wanted anything more, the outboard shop in town could likely handle him.

Only the knocking was a banging after the plug change and the outboard shop keeper knew just from my description that lodging for Mr. Murphy, and my boat, would be required for a least a few weeks.

Plan two was then in operation. I would bus or cab to Olympia and pick up a car. We could still see our friends and enjoy cruising on OPB (other peoples boats). OPB is racing comfort for many, we might as well use it for cruising. Reservations at the resorts would be extended to cover the time we had expected to sleep aboard. Mr. Murphy could be ignored until after vacation. And as a bonus we could visit places on shore in the San Juan Islands that we usually do not because of the lack of ground transportation. Our friends with boats only asked that we bring our dinghy which nicely packs in the trunk of our Volvo. Not one day of vacation would be lost.

So I explained the plan to those who were aware of the engine problem and sharing the guest dock. It was faulty. While there was room for a guest boat on Saturday, no marina in the harbor could accommodate Murrelet for two weeks owing to a coming holiday. Murphy was winning. Now I began asking for suggestions.

This process was kind of fun. I was told of a miracle can-o-something that was certain to fix the motor for a few weeks if I sprayed its contents into the outboard. It was also suggested that I tow the 26 footer with her dinghy. I was asked if the 50 hp motor could be removed from the boat by a fellow that obviously knew engines and might be able to fix it. If so it could be used as an anchor for a few weeks, he explained. Ha Ha.

Anchoring out was a possibility but Gig Harbor is busy and there would be no one to watch after her. By now Mr. Murphy had alerted friends on the Internet and I am certain some of the suggestions - like the anchor one - were coming from there. One fellow explained how I could lash the Zodiac to Murrelet's side and use the new multi-hull rig to negotiate out of the harbor. A quick review of the tides demonstrated that they were favorable for returning to Olympia. It would take all day to motor there using the 3.5 hp dinghy motor. But this was plan 3.

Lashed dingy ready, I efficiently flooded the dinghy outboard engine. Not wanting to be more of a show I took a pause. A half hour later the wind picked up. Murrelet is a sailboat after all. How glorious, I would just sail out of harbor and back to Olympia. A great entry in the log book was about to be had. Happily hoisting sail and casting off, the wind then shifted and died. This happened three or four times. Murphy is good. I would need to motor out or be towed out. So Plan 5 was put into action.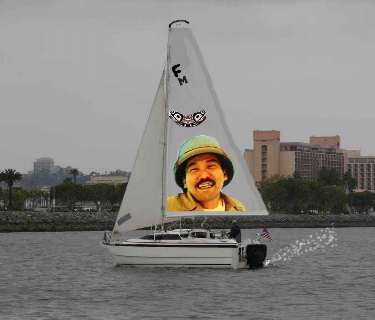 I carry Vessel Assist towing more for when I am on power boats than on Murrelet. Well, I carry little fuel when racing so I suppose I carry vessel assist for racing comfort as well. You see quite a few racing sailboats being towed. All of the Americas Cup vessels are towed to and from race venues. In the 7 years I have owned Murrelet, I have had few engine issues but when I have I have always been able to sail. I knew that the downside of Plan 5 was that some Internet fan would be posting a picture of my sailboat being towed. But clearly I was doing the boats in the harbor right. I would live with the photos. Just outside of harbor a police boat operator hailed me while under tow to inform me that photos were already being placed on the Sailing Anarchy site. I hoisted the SA flag. Might as well admit Murphy had me.
The tow operator was to take me through the narrows where I would start sailing home. Only there wasn't a bit of wind. Whats more there would be no charge to be towed all the way to Olympia (an $800 value). Plan 6, the final plan now went into operation. I could not beat Murphy, so I would drink to Murphy and drink Murphys, a four pack was on board, part of the boats racing comforts. The beer mugs out, 5 hours of the most interesting trip by boat in some time went by quickly, with my new friend Murphy. I missed less than a day of vacation. As it turned out Murphy really was a reluctant friend because 90 vessels burned in Gig Harbor just a few days later. Had Murrelet been accommodated there she may not be happily cruising and racing today. A month later an upgraded engine was mounted. The new sail goes up for the next race.
Additional analysis and a calculator for the comfort factor and more important ratios for identifying a true blue water cruiser are provided in the next section.
[Home] [Decision Tree] [Deep Knowledge] [Acknowledgements] [Map]
Cruising Log of the Mariah Wind
Cruising Log of the Bella Donna
Crusing Log of the ForeverGreen
Updates at WordPress Blog Site
mighetto@eskimo.com - Internet email address
mighetto@compuserve.com - Internet email address or 72154,3467 from within Compuserve
---