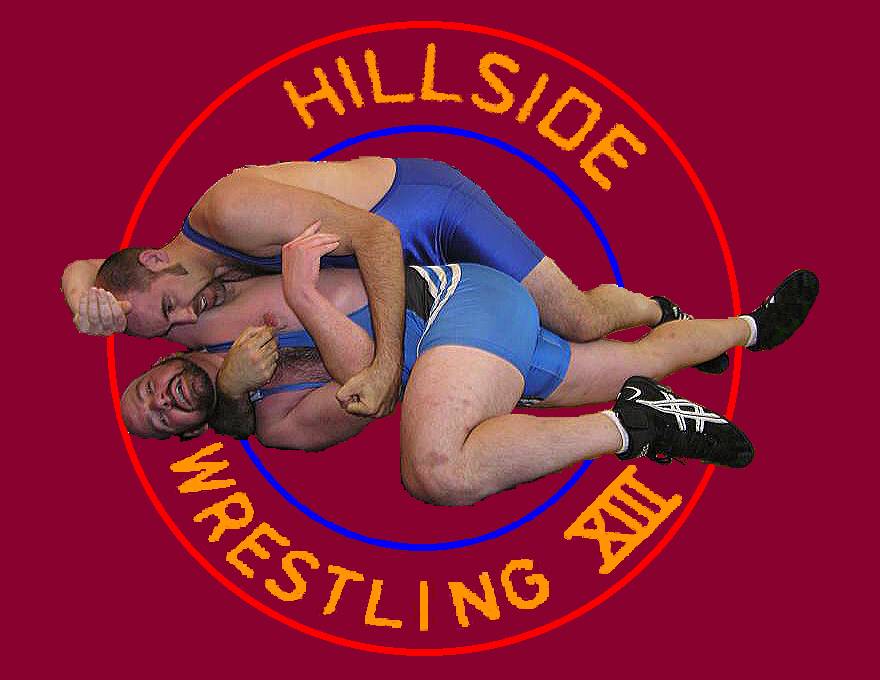 Hillside Wrestling Weekend XIII, July - August 2006
No Frames? No problem. This web page designed to work with



Any Browser, Any System, Any Time.
For more information, see the Best Viewed With Any Browser campaign link.
Click here to go directly to Hillside 1996, 1997, 1998, 1999, 2000, 2001, 2002, 2003, 2004 or 2005 pages, or to the registration and general information page.
Hillside Wrestling Weekend XII was held July 26-30, 2006. It was the thirteenth annual wrestling weekend and my eleventh. As with last year, there were lots of new guys experiencing Hillside for the first time. With 110 wrestlers registered, there was plenty of opportunity to wrestle day and night. The weather was a Hillside first: starting out more humid than any previous weekend, then drying out and giving way to a heat wave at the beginning of the following week.
Many pictures have been resized for quick loading; e-mail me if you want to see particular originals. If all the thumbnails don't load, just hit the Refresh button or click the blue rectangle to see the full-size picture.
Click on one of the following links to jump to a particular section of this year's page:
The Ride There and Back (NYC, NJ, upstate NY & PA) | At Hillside: Wrestling and other photos from Hillside Campground
---
Riding to Hillside 2006
The ride in was warm and humid. From Staten Island, took the Bayonne Bridge into New Jersey, then via Port Jervis, NY to northeastern Pennsylvania.
| | |
| --- | --- |
| | Working on bike before ride, in yard in Staten Island |
| | Replaced rear tire and freewheel |
| | Closeup of 28 x 32 low gear for those Pennsylvania hills |
| | Leaving Staten Island: view from the Bayonne Bridge |
| | Milford, PA |
| | Muggy Honesdale, PA |
| | Honesdale, PA intersection (US 6 and PA 191) |
| | Lenox, PA, almost at Hillside |
| | Lenox, PA closeup, almost at Hillside, time for some more Fresh Oil and Chips. |
---
At Hillside
Wrestling and campsite photos
Get to camp just after lunch, have first match then hit the showers. Was planning on having a sandwich on arrival but the mat beckoned, so had quite an appetite by dinnertime. Wrestled till 1 - 3 a.m. each day -- sleep can wait till later. Was concerned about a pre-Hillside shoulder injury but it mostly didn't affect the weekend's wrestling.
---
Friday was the soggiest day but then it cleared up. The mats were all protected with tents (though the oil tent collapsed in the big storm on Thursday). Our dedicated cooks did a great job preparing three meals a day. Here's some between-matches shots:
---
Freestyle matches on Friday. A few of them show the condensation developing on the camera sensor due to the record high humidity.
---
Break for lunch as another thunderstorm brews; the pro ring is covered and the oil tent put back up.
---
The pro clinic is held under the freestyle tent due to the pouring rain, then some horsing around afterwards.
---
Ed and Calvin on the freestyle mat.
---
Joe by the freestyle mat.
---
There were portable toilets on site 60 but there were, um, better facilities by the rec center.
---
Saturday morning at the pro ring -- the misty effect is the condensation that developed on the camera again overnight.
---
Hillside Freestyle Tournament, July 29, 2006
---
Mike (Sluggo)'s Hillside 2006 Photos
---
The Pro Show on Saturday
---
More pro show pictures from Mike
---
Sunday afternoon -- all but three tents left on Site 60, plus some wildlife.
---
The weekend's not over yet -- more matches on Monday!
---
Skunk under the table, Monday night.
---
Pool area, Monday night.
---
Fat millipede and ripe blackberries near where sub mat was, Tuesday morning.
---
Packing up my tent, leaving Hillside.
---
The Ride Back
"Heat Wave Hysteria"
Riding back -- there was "heat wave hysteria" from all the weather forecasters' warnings, but it didn't really feel that bad. "It's summer, it's supposed to be hot" (quoted comments heard later on a TV talk show). It was 99°F in Carbondale, 101° in Honesdale, PA and about 104° in New Jersey and New York, by which time there was a nice breeze. Usually N.E. Pennsylvania is about 10-15° cooler than New York City and the near suburbs in New Jersey.
---
Met Glen in Hawley, PA; he left suburban NJ in the morning and took 46, 15 and 6 to here (similar to my usual route without detours), chat a little before he heads on to Honesdale and Binghamton en route to South Dakota.
---
Lackawaxen River Valley, PA: washouts from the major flooding a month ago still being repaired.
---
Gypsy moth remnants in Barryville, NY (haven't seen them in quite a few years).
---
Approaching Port Jervis, NY; High Point, NJ's obelisk in the distance marks New Jersey's highest point.
---
East of Port Jervis, a 3.5-mile climb onto the Shawangunk Mountain which is more like a plateau; some pictures from South Centerville:
---
Ho, ho, but no Kussing: Ho-Ho-Kus, New Jersey is a peaceful, pleasant village just north of Ridgewood, NJ.
---
Back home in Staten Island, no ringworm, just a big zit on left forearm. Odometer on return, 149402.1.
---
Previous

pages:
Hillside 1996 | 1997: Digest & Pictures | 1998 | 1999 | 2000 | 2001 | 2002 | 2003 | 2004 | 2005
---
General Information about the next Hillside Wrestling Weekend | Home Page / Other Pictures
---


Click here to send me comments on this web page.
This site has been viewed
times since May 3, 2001.
This page has been visited Can't open count data file for Reading: No such file or directory Can't open count data file for Writing: No such file or directory System doesn't support file locking: Bad file descriptor




times since August 6, 2006.
nickz@eskimo.com

Page created:   Aug.  4, 2006
Last modified:  Aug. 28, 2006