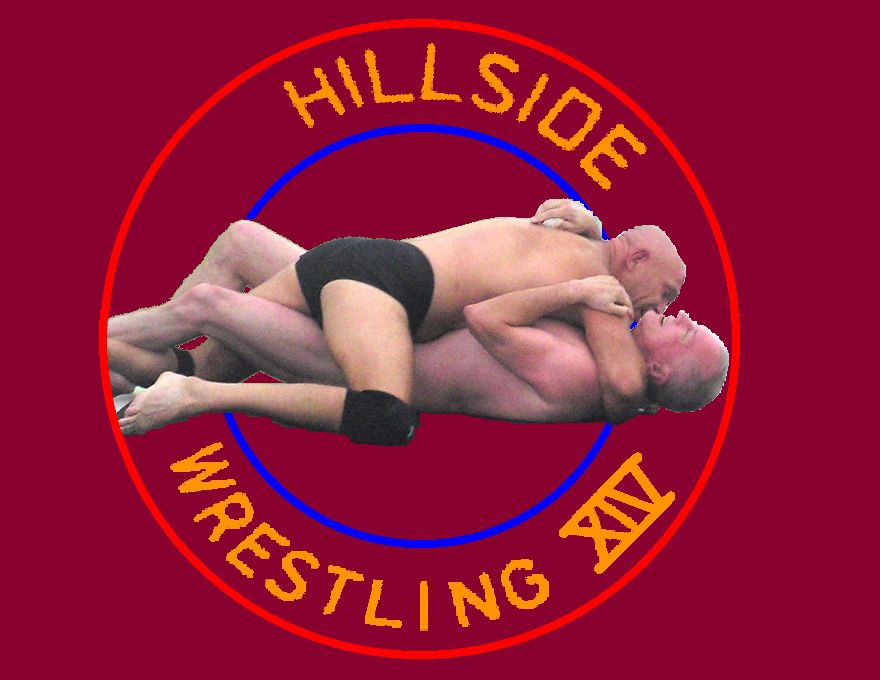 Hillside Wrestling Weekend XIV, July 2007
No Frames? No problem. This web page designed to work with



Any Browser, Any System, Any Time.
For more information, see the Best Viewed With Any Browser campaign link.
Click here to go directly to Hillside 1996, 1997, 1998, 1999, 2000, 2001, 2002, 2003, 2004, 2005 or 2006 pages, or to the registration and general information page.
Hillside Wrestling Weekend XIV was held July 25-29, 2007. It was the 14th annual wrestling weekend and my 12th. As with last year, there were lots of new guys experiencing Hillside for the first time. With 110 wrestlers registered, there was plenty of opportunity to wrestle, with mild weather day and night. There was a big thunderstorm on Friday which caused about 500 power outages in Scranton and Carbondale, and a lot of flooding, but it was fine at camp.
Many pictures have been resized for quick loading; e-mail me if you want to see particular originals. If all the thumbnails don't load, just hit the Refresh button or click the blue rectangle to see the full-size picture.
Click on one of the following links to jump to a particular section of this year's page:
The Ride There and Back (NY, NJ & PA) | At Hillside: Wrestling and other photos from Hillside Campground
---
Riding to Hillside 2007
Pick tomatoes before leaving so they don't spoil on the vine while I'm away. Warm & sunny weather both coming and going; took G.W. Bridge going and Bayonne Bridge returning. Fog in eastern PA makes for some interesting photos, but the mosquitoes mostly stay away, unlike last year. Arrive Wednesday evening around 9.
---
At Hillside
Wrestling and campsite photos
Get to camp around dusk on Wednesday and wrestle through Sunday. The weather was generally warm and pleasant, though there was some rain. Friday afternoon was the soggiest but then it cleared up. The mats were all protected with tents (Unlike last year, the oil tent held up). Once again, our dedicated cooks did a great job preparing three meals a day.

Ken vs. Nick match on Friday (thanks to Bob who took the photos)

The pro clinic is held at a new location, just below site 60, and on Friday due to the rain forecast for Saturday and Sunday. But the rest of the weekend was sunny and warm.

For the first time, there was a Brazilian jiu-jitsu clinic at the sub tent on Saturday morning, before and during the freestyle tournament.

The freestyle tournament.

Around camp, after the tournament.

Packing up tents and mats (all but one) on Sunday morning, and various shots from around camp on Sunday and Monday.
---
Riding back, met a wrestler riding in Belleville, NJ, then crossed the Bayonne Bridge and was soon back home on Staten Island, where I mowed the lawn and picked some of the many tomatoes that ripened while I was away.
---
Previous

pages:
Hillside 1996 | 1997: Digest & Pictures | 1998 | 1999 | 2000 | 2001 | 2002 | 2003 | 2004 | 2005 | 2006
---
General Information about the next Hillside Wrestling Weekend | Home Page / Other Pictures
---


Click here to send me comments on this web page.
This site has been viewed
times since May 3, 2001.
This page has been visited Can't open count data file for Reading: No such file or directory Can't open count data file for Writing: No such file or directory System doesn't support file locking: Bad file descriptor




times since September 24, 2007.
nickz@eskimo.com

Page created:   Aug. 23, 2007
Last modified:  Sep. 24, 2007