Page hosted by:

Winamp skins
All skins created by Carl Dinse
Blue Amp Beyond 2.74
Date Released: 04/11/2001 --very much improved.
It's no longer on winamp.com, re-publishing is in process. Will post link when published.
Screen Shots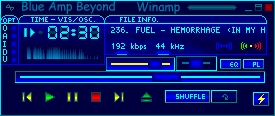 Click here to see the Main, EQ and Playlist windows all togeather.
shift click on the image to download the skin.
Blue Amp - Winamp (The Prototype to Blue Amp Beyond
Description: It's Blue and it's Back. Well I completly fixed it... I believe this is final. Check it out.
Date Released: 07/25/2000
Screen Shots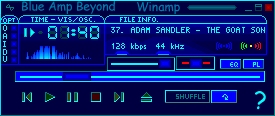 Hold Shif and click to Download Here. or click on the screen shot.
Click here to see the full screen shot!
Click here to see the Skined WVS