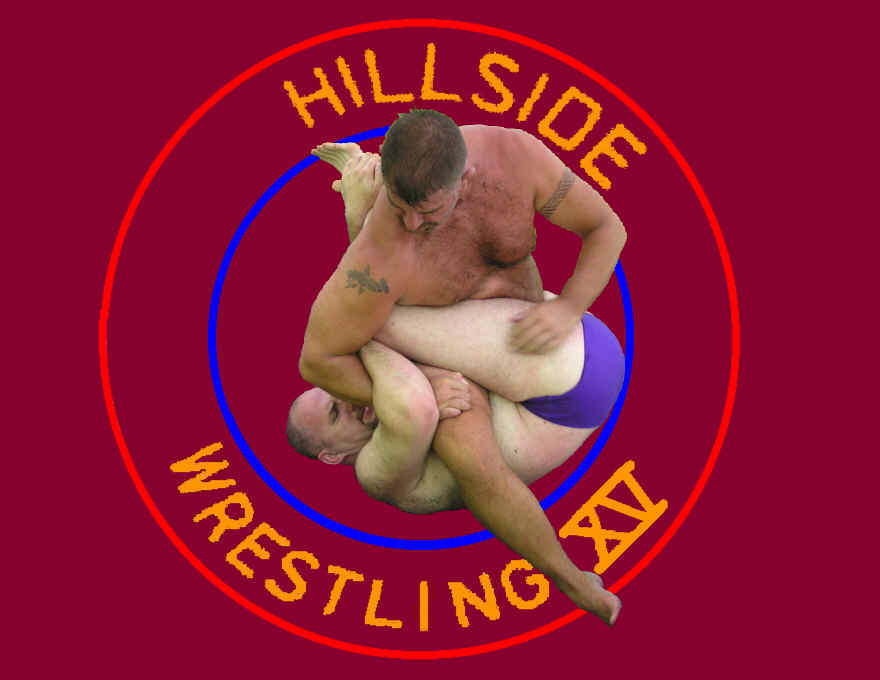 Hillside Wrestling Weekend XV, July 2008
No Frames? No problem. This web page designed to work with



Any Browser, Any System, Any Time.
For more information, see the Best Viewed With Any Browser campaign link.
Click here to go directly to Hillside 1996, 1997, 1998, 1999, 2000, 2001, 2002, 2003, 2004, 2005, 2006 or 2007 pages, or to the registration and general information page.
Hillside Wrestling Weekend XV was held July 23-27, 2008. It was the 15th annual wrestling weekend and my 13th. As with last year, there was a mix of new guys experiencing Hillside for the first time, and Hillside veterans coming back for more mat action. The weekend got off to a soggy start, then it dried out. There was a freestyle tournament, plenty of submission wrestling, and the pro show.
Many pictures have been resized for quick loading; e-mail me if you want to see particular originals. If all the thumbnails don't load, just hit the Refresh button or click the blue rectangle to see the full-size picture.
Click on one of the following links to jump to a particular section of this year's page:
The Ride There and Back (NY, NJ & PA) | At Hillside: Wrestling and other photos from Hillside Campground
---
Riding to Hillside 2008
Ride to Hillside via the Bayonne Bridge, Port Jervis and the scenic Lackawaxen River Valley. Go over the Moosic Mountain pass near Waymart (1940 feet), seeing clouds below me for the first time since I was in the Alps some years ago. Rain becomes steady during the last 25 miles or so. Take the shortcut via Old Newburgh Turnpike (elevation about 2000 feet) and Kennedy Hill (1600 feet, separated from the former by a valley at 1000 feet). From the descent into the valley, over Kennedy Hill and up to the outskirts of Gibson, it's an unpaved excursion into the wilderness.
---
At Hillside
(Elevation 1350 ft.)
Wrestling and campsite photos
Get to camp around on Wednesday and wrestle through Sunday. The weather was generally warm and pleasant, though there was some rain. Wednesday afternoon into Thursday morning was the soggiest but then it cleared up. The mats were all protected with tents. I set up my tent on Wednesday under the submission tent until the downpour subsided, then put it out on the grass.
Our dedicated cooks prepared three delicious meals a day. It felt like I was burning about twice the calories I'd normally burn (perhaps 5000-6000 per day) so I had to make myself eat seconds or thirds so I wouldn't be really hungry before the next meal.
Rick from California vs. Ben from Wisconsin
Two videos of the same match (Quicktime .MOV format)
The freestyle clinic and tournament was held on Saturday at the main mat area.
Break for lunch, then down to the Village Circle party, the pool and a visit to site 52.
The pro show was again held at site 69, just below site 60, a little earlier than last year to avoid the rain that was forecast.
Around camp, after the tournament and pro show.
Packing up (most) tents and mats on Sunday morning, and various shots from around camp on Sunday and Monday. A little bruised but pleasantly sore after a weekend packed with wrestling.
---
Ride back via similar route, then check out High Point State Park, the highest point in New Jersey (the summit is at 1803 feet, which is well below the high points of Pennsylvania). Take some infrared photos from the mountainside using filter with 850 nm cutoff. More High Point photos on the Hillside 2004 page. Mountain-style hairpin turn approaching the Hudson River on NJ Rte. 5, then a mostly flat ride through Hoboken, Jersey City and Bayonne and back to Staten Island.
---
Previous

pages:
Hillside 1996 | 1997: Digest & Pictures | 1998 | 1999 | 2000 | 2001 | 2002 | 2003 | 2004 | 2005 | 2006 | 2007
---
General Information about the next Hillside Wrestling Weekend
Home Page / Other Pictures

The Palaestra
---


Click here to send me comments on this web page.
This site has been viewed
times since May 3, 2001.
This page has been visited Can't open count data file for Reading: No such file or directory Can't open count data file for Writing: No such file or directory System doesn't support file locking: Bad file descriptor




times since September 28, 2008.
nickz@eskimo.com

Page created:   Sep. 27, 2008
Last modified:  Sep. 28, 2008