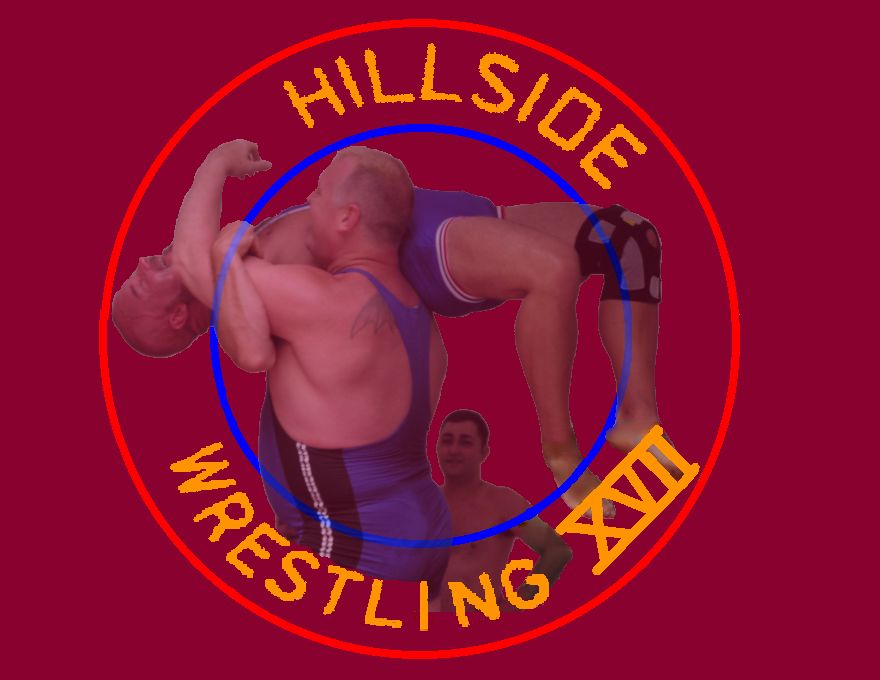 Hillside Wrestling Weekend XVII, July 2010
No Frames? No problem. This web page designed to work with



Any Browser, Any System, Any Time.
For more information, see the Best Viewed With Any Browser campaign link.
Click here to go directly to Hillside 1996, 1997, 1998, 1999, 2000, 2001, 2002, 2003, 2004, 2005, 2006, 2007, 2008 or or 2009 pages, or to the registration and general information page.
Hillside Wrestling Weekend XVII was held July 21-25, 2010, though there were already 11 wrestlers there when I arrived on the 20th.
It was the 17th annual wrestling weekend and my 15th consecutive one (I only missed the first two ones in 1994 & 1995; there were a few other wrestlers there who had only missed two of the weekends since its inception). There was a mix of new guys experiencing Hillside for the first time, and Hillside veterans coming back for more mat action. The new guys did really well on the mats, and we look forward to seeing them in the future at the wrestling weekends.
The weather was drier than last year. A thundershower on Wednesday prompted us to put up the canopy over the eating area, and a drainage ditch was dug to keep the area dry. There were a few days with evening showers, but otherwise the weather was good.
Many pictures have been resized for quick loading; e-mail me if you want to see particular originals. If all the thumbnails don't load, just hit the Refresh button or click the blue rectangle to see the full-size picture.
Click on one of the following links to jump to a particular section of this year's page:
The Ride There and Back (NY, NJ & PA) | At Hillside: Wrestling and other photos from Hillside Campground
---
Riding to Hillside 2010
Ride to Hillside via the direct route: Bayonne Bridge, Newark, Dover, Sparta, Lord's Valley, Hawley, Honesdale, Carbondale, Gibson. Shaved off a few hours from last year's riding time in both directions, and made a point to do some of the major passes one gear higher than last year. For the last two years, the last pass before Hillside (Kennedy Hill, 1600 ft. elevation) was a spectacular display of flying thunderbolts and loud lightning. This year, there was a tiny shower at the base and then nice sunny weather on to Hillside; the pass looked a lot different. Also a number of roads were freshly paved; part of Rte. 6 being repaved as I was passing, embedding a bit of asphalt dust in my socks.
Riding back, barely 30 miles into the ride, I see two cyclists in my rear view mirror as I'm approaching the top of Moosic Pass (elevation 1940 ft.). At the top, we chat; it turns out that they are two Austrians riding around the world; their current leg was taking them from Ontario north of Lake Superior, past Binghamton and then to New York. So we followed the same route, though I mostly stayed ahead of them. This probably shaved more time off the return trip. Didn't see them for the last 60 miles so was about to text them as I was approaching Newark, when my phone battery dies. The plan was for them to stay over at my place, so I just headed home and called from there. They called from Jersey City and Staten Island for directions, then decided to go into Manhattan instead, but we ended up meeting again on the weekend on Staten Island.
Getting ready for the ride
Replacing supposedly non-user-serviceable batteries on heart-rate monitor (HRM)
Testing heart-rate monitor: 43, 42, 41 bpm while sitting
The Ride to Hillside; scenes on PA739 in Pike County
---
At Hillside
(Elevation 1350 ft.)
Wrestling and campsite photos
Arrive at Hillside site 60 6:28 (2

) PM; ride time 15:24, total Calories = 5095 (approx. 331 Cal/hr according to HRM, which seems a bit low). Scenes around camp.

The pro ring was brought up from the front gate area and assembled just before a thundershower announced its booming presence.

More pictures, around camp and at the submission wrestling mat, Thursday.

More Thursday and Friday pictures; taking a break from the mats.

(*got it sometime between 7 pm Thu. and 3 am Fri.; didn't feel it or realize I had a "Hillside souvenir" till someone pointed it out.)

The pro guys did a clinic on Saturday.

More Saturday photos.



Getting ready to leave camp.
Hillside 2010: The Ride Back
Back home, lots of crops ripened in the garden while I was gone, so got out the camera as soon as I arrived. The NY weather had been bone-dry but my roommate watered the garden well.
In the living room, showed roommate the Hillside photos, which resulted in a wrestling match; the couch showing the aftermath.
---
Previous

pages:
Hillside 1996 | 1997: Digest & Pictures | 1998 | 1999 | 2000 | 2001 | 2002 | 2003 | 2004 | 2005 | 2006 | 2007 | 2008 | 2009 | 2010
---
General Information about the next Hillside Wrestling Weekend
Home Page / Other Pictures

The Palaestra
---


Click here to send me comments on this web page.
This site has been viewed
times since May 3, 2001.
This page has been visited Can't open count data file for Reading: No such file or directory Can't open count data file for Writing: No such file or directory System doesn't support file locking: Bad file descriptor




times since August 6, 2010.
nickz@eskimo.com

Page created:   Aug.  5, 2010
Last modified:  Aug. 10, 2010