Foothills Trail--Buckley North
* Enumclaw North * Enumclaw South * Enumclaw Undeveloped Section *
* Buckley North * Buckley South * Cascade Junction Trail * C J Trail 2 * Cascade Junction Bridge *
* Carbonado * Wilkeson * South Prairie East * South Prairie West * Orting East * Orting West *
* Other Users * Volunteers * Foothills Trail Coalition * Foothills Trail Map * Flooded Foothills Trail *
* Introduction * Wheels in the Garden * Wheels Outside the Garden * Foothills TOT *
The Buckley section of the Foothills Trail has several parking areas. A good place to start is at the skate park. You could also try a back flip on your trike here.

This spot and several others along the trail have portable restrooms. Other amenities right here are a library, post office, and senior center.

Jordan is ready to unload the trikes.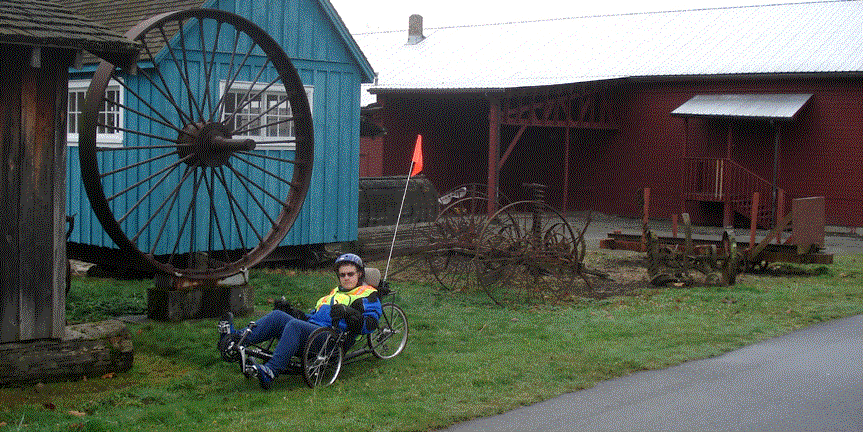 One of the first sights is the historical museum. The various iron spoke wheels dwarf the Tri-Sled 406s.
Wally's, an original 50's drive-in, is located right on the trail. Unfortunately, waitresses no longer come out on roller skates.

Several other restaurants are located across the street from the trail, and more still a block away in town.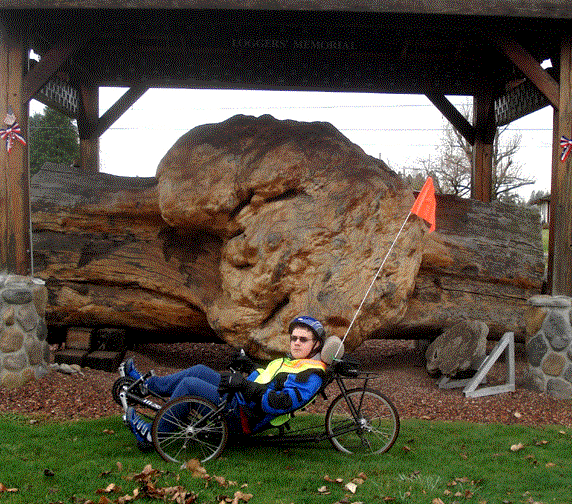 A huge burl sits alongside the trail as a tribute to the town's 375 loggers who lost their lives in the woods.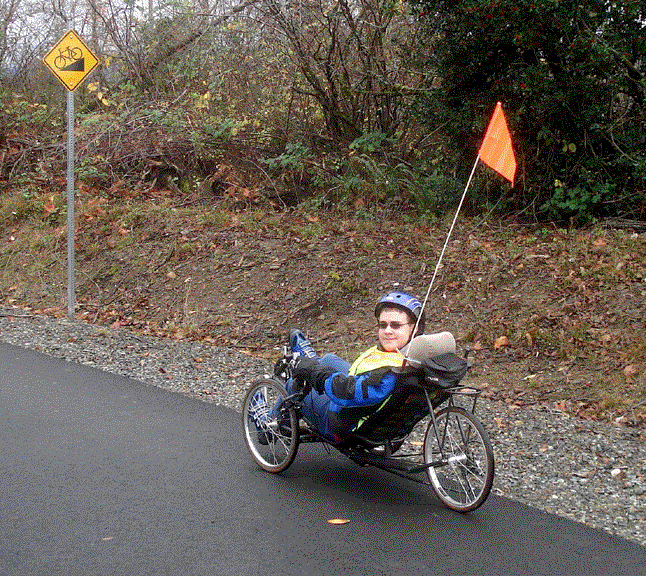 At the end of town, the trail begins a steep descent to the White River. 
Smooth new pavement make for a fun ride on the downhill turns.





At the bottom, the pavement ends.  A short dirt trail takes you to the river.
Jordan waits for the bridge to be built that will connect the Enumclaw and Buckley bike trails.


A few weeks later after the flood.



Time to head back up.



The flume still supplies all the water for Lake Tapps, but no longer drives Puget Sound Energy's hyrdo plant in Sumner.
You can take a detour along the interesting gravel side trails along the flume.



Jordan takes an early lead on the long hill climb.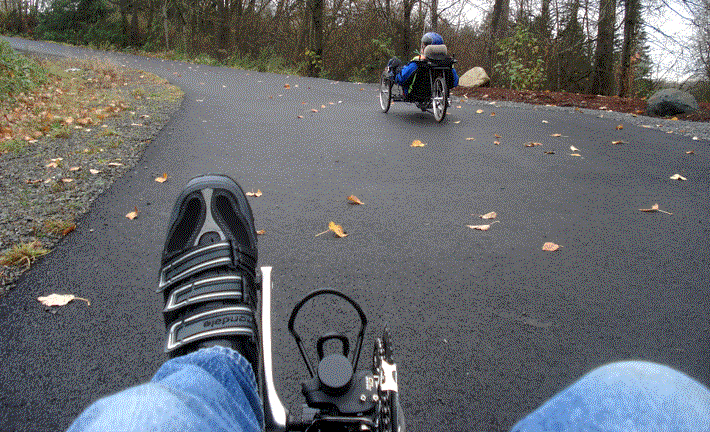 Another logging exhibit on the trail features
    a steam donkey and a reconstucted fire tower.




 


    

The town commissioned a local chainsaw
    artist to create a scene of local animals for the trail.



    

I didn't realize until my daughter took
    this picture how goofy I look with a flourescent stocking cap
    under my helmet.



    

In a few minutes, we are back to our beginning
    point.



    

Another section of trail takes you a mile
    south, and will connect with the rest of the Foothills Trail
    at South Prairie in a few years.


    






 

* Buckley Trail South *  Videocam Comparison *