No Frames? No problem. This web page designed to work with



Any Browser, Any System, Any Time.
Hillside Wrestling Weekend XIX was held July 15-19, 2015. It's Back!
In 1996 I attended my first Hillside Wrestling Weekend, the third of 18 consecutive Wrestling Weekends organized by Bob Sayers at Hillside Campgrounds in Pennsylvania. It was held every year, becoming the biggest, not-to-be-missed and longest-running of the annual wrestling events, until the 2012 event was canceled. The wrestling weekend was sorely missed.
My friend Cliff was a wrestler who I'd wrestled at camp for a number of years, typically on Sunday after the wrestling concluded at the Wrestling Weekend site. He also missed the event. In 2015 I sent out a message asking various wrestlers if they'd be interested in attending a Wrestling Weekend in 2015, and within two days, more than 40 wrestlers had responded positively. So we decided to get the event going again, and when the third weekend in July came around, once again, the hills were alive with the sights and sounds of wrestling. Submission and freestyle wrestling on mats, and pro wrestling on the ring. Our meals were prepared by Bill with the Friday and Saturday meals catered by Armetta's, the restaurant up the hill on Rte. 848.
It was like a reunion for the returning wrestlers, and a new experience for a number of wrestlers who were attending for the first time. The other campers and camp staff were also excited that "The wrestlers are back!".
The weather was great -- generally 60's at night and 80's during the day. There were a few showers but it quickly cleared. Mats were out all day and night, with most matches being submission/MMA, and some freestyle and pro as well.
The Roster for Hillside Wrestling Weekend 2015
Register for Hillside Wrestling Weekend
---

At Hillside
(Elevation 1350 ft.)
Setup, Tuesday and Wednesday
Cliff, Neil, Bill and I set up at camp on Tuesday, July 14th. Big tents set up at 4pm, then mats rolled out underneath them. Dinner is at Armetta's pizzeria which turns out to have live music that night. Next day we set up the mat lighting, and get the pro ring up to its site.
---
Thursday, July 16, 2015
A cool night (49°F at 7:20 am) gives way to a warm afternoon (84°F at 2:32 pm). Go for a bike ride, patch a hole in my tent. Pro ring assembled; MikeSWUK, Gerald, Steve and Ed arrive.
---
Friday, July 17, 2015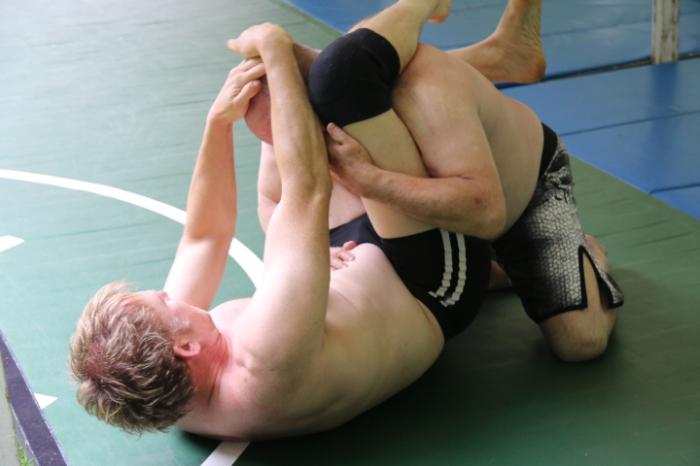 Most of the rest of the wrestlers trickle in during the day. At first, they are just hanging out, then I take on Mike from the U.K. and various other matches break out on the mats. After dinner, the camp fire is lit, but this time the night is warm and temperatures remain in the 60's. Wrestling matches continue under the mat lights (a certain two wrestlers went til 1:49 am) ;-)
---
Saturday, July 18, 2015 Sub & Freestyle Matches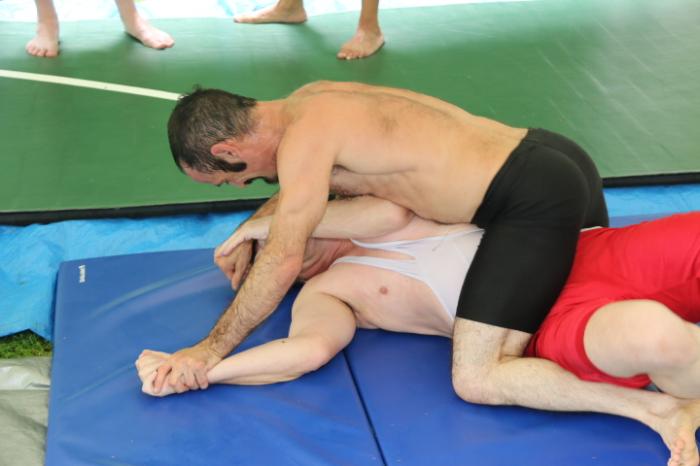 ---
Saturday, July 18, 2015: The Pro Show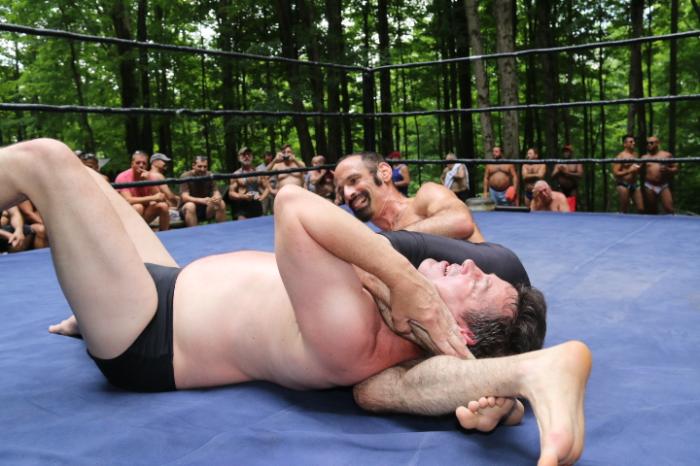 Some videos of Ken vs. Nick matches: match 1 | pro match 1 | pro match 2
---
The "Welcome Back To Hillside" Cake
---
Sunday, July 19, 2015: Matches til Midday, Breakdown, then Roughhousing in Pool (a.k.a. beating on the wildlife) ;-)
---
Monday, July 20, 2015: after final match before Mike goes back to U.K.
---
Previous

pages:
Hillside 1996 | 1997: Digest & Pictures | 1998 | 1999 | 2000 | 2001 | 2002 | 2003 | 2004 | 2005 | 2006 | 2007 | 2008 | 2009 | 2010 | 2011 | 2015
---
General Information about the next Hillside Wrestling Weekend
Wrestling Page / Other Pictures

The Palaestra
---


Click here to send me comments on this web page.
This site has been viewed
times since May 3, 2011.
This page has been visited Can't open count data file for Reading: No such file or directory Can't open count data file for Writing: No such file or directory System doesn't support file locking: Bad file descriptor




times since July 20, 2015.
nickz@eskimo.com

Page created:   July 20, 2015
Last modified:  July 24, 2015