Few Americans participated in the Cup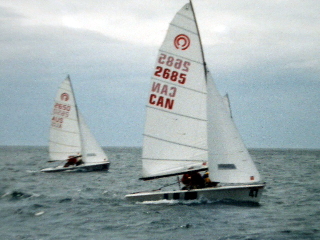 The New Zealand, Australia and Switzerland crew members are valued because they are trained in more modes of sailing than Americans. Some may still disagree but after this cup most recognize the importance of crew competency over sailboat designe even if they do not yet realize the incompetency of the US trained.
I blame the sailing schools and advocate that those schools start teaching ocean sailing using higher- performance designs. The problem with the boats currently being used, such as keelboats, is that "at some critical wind speed their headsails fall centrally by gravity." At that point the vessel stops. Crew weight isn't enough to prevent this on traditional racing monohulls.
On a monohull like a MacGregor, however, "crew move their weight forward over the progressively narrower forward underbody, the hull stability decreasing to the point where it will become neutral." A 15 percent heel can then be established by moving to the side and the headsail can remain in position to capture any wind in the near calms.
This bow down and heeled attitude is an importat mode of sailing and higher speeds in very light airs occur when the handling is done that way. Roger MacGregor states in the next to last sentence of his how to sail the X literature (see)
How To Sail The X by Roger MacGregor
"In light wind, keep the crew forward and positioned so the transom is almost out of the water and the boat heels about 5 to 10 degrees. This heeling reduces the amount of hull surface in contact with the water. In light wind, the surface area touching the water creates most of the drag. The more surface in contact with the water, the slower the boat will go. A 10 degree angle of heel reduces this area significantly." On a Mac26x 11, degrees is enough to bring the centerboard slot out of the water. Significant indead.
Bethwaite, pg 270 adds "if at the same time, the crew separate their weights in the sideways sense, this will stabilize the boat in a roll (technically, by separating their weights they increase the angular inertial)" Hence even in light wind with waves, higher-performance designs can match those of more rounded design – like the Classics (M included in that group). "The more the crew can stabilize the hull and steady the rig in light air, the more efficient and powerful can the airflow over the sails become, and the faster the boat will sail." In addition when heeled and trimmed bow down the shape presented to the water is River dinghy (M) or single catamaran hull like.