In 1954 the Olin Stephens designed yacht Finisterre was launched, to late for the Bermuda race that year. She was a 38 foot centerboarder and there is no more accomplished racing yacht. She ranks as one of the most significant yachts in the history of the sport.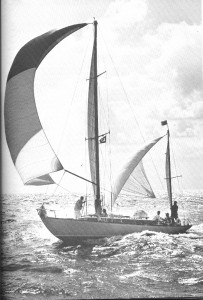 Carleton Mitchell, the owner of Finisterre, is the author of the book Islands to Windward. He had developed a sailing style that was not in concert with the era of the deep-keeled, long-ended windward leeward oriented ocean racers. Mitchell had previously owned a 58-foot centerboarder, the Rodes-designed Caribbee. Michell wanted to prove something by racing.
With Finisterre, he humiliated hundreds of deep fixed keel race boat owners by holding the honor mooring spot off the Royal Bermuda Yacht Club from 1956 to 1962, a spot envisioned for a much larger and deep draft vessel.
Prior to the build, Mitchell put his ideas in articles which were criticized, putting him in the awkward position of potential publicized failure. Finisterre was built at the height of custom yacht design. His notion of a vessel that would be like having your cake and eating it to, that would be small enough for single handling, comfortable enough for luxurious cruising, able to cross oceans and fast enough to win races was not popular among the all boats are compromises mindset. The fact that the vessel would be a centerboarder undoubtedly angered many who had worked for years to discredit this foil type.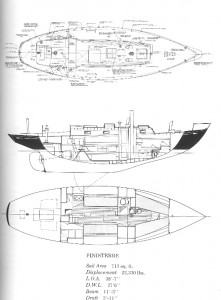 Bill Robinson, in Legendary Yachts, relates the story of Stanley Rosenfeld, the photographer, who in following Finisterre for a photo shoot, noticed little of the creaking that he listened for from the helm of his subjects to identify just the right distance and angle for good photos. Robinson believes the lack of that noise was part of the secret to this vessel and so do I – not that anything about Finisterre was secret, it all being public record owing to Mitchell's wish to prove something.
Pat Royce in the 2000 edition of Royce Sailing Illustrated notes that Mitchell used the swing keel for steering. "The centerboard is down all the way when beating to windward in a light breeze. As the wind increases the centerboard is raised sufficiently to trim the rudder to reduce weather helm rudder drag." Pg 17
Winning races unfortunately does not prove anything to those who are closed minded. Robinson lists many reasons for Finisterre's success ranging from Mitchel's knowledge of weather to winches but does not connect the centerboard dot as a reason for her success.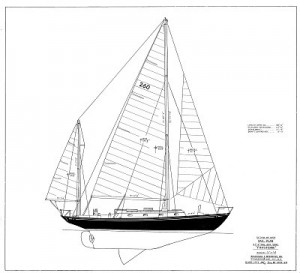 Retracting foils helps the vessel to surf or plane. Finisterre was able to surf the storm fronts owing to this thereby bettering her "betters". She was greatly immitated by other builders and this immitation lead to rule changes tending to reduce the success of her type acording to Robinson. That success should have spawned rules limiting progress in design is a tragedy only now being undone by vessels like the AC72s. Huzzah to Oracle, Larry Ellison, and the 34th America's Cup.
Designed by Sparkman & Stephens, Finisterre is arguably the top racing sailboat of the 20th century. Launched in 1954, Finesterre was built by a legendary craftsman, Seth Persson in Old Saybrook, CT for legendary racer Carleton Mitchell. Finisterre was 1st in Class and 1st over all in 3 consecutive Bermuda Races (1956, 58, 60) a feat never equaled since. This rather small, 38′ LOA, beamy, bronze centerboard yawl combined speed (especially in light air), seaworthiness and comfort, was a great racing boat in all conditions, and in her owner's words "..it was as a cruising boat that I felt Finisterre was truly a success." She was comfortable, easy to sail shorthanded, her shallow draft made gunk holing possible. Carleton was a remarkable sailor and yachting writer who passed away in July, 2007 at 96. Soundings Magazine's October, 2007 had a very good article about him which we have permission of the magazine to reprint. Click here to go to it. Later in his career Carleton became interested in power boats. In 1960, the same year he won his 3rd consecutive Bermuda race with Finesterre, he raced with Dick Bertrum as navigator on Moppie – the boat famous for winning the Miami Nausau Race.For an interesting side trip click here for more.
The 1960 Bermuda Race started in light air but it is memorable for its Force 8/9 gale with hurricane force gusts recorded. Many boats went to survival mode, hove to, laying a-hull with bare poles or running off dragging lines astern. Through it all Finisterre carried sail and never stopped racing under her #3 jib, deeply reefed main and full mizzen with sheets eased slightly to keep moving through heavy seas.
Finisterre had many other racing successes notably in the S.O.R.C. in 1957 and 1958 when she won the Miami-Nassau Race both years. In light air she excelled despite her heavy displacement. Olin Stephens modestly credits the skill and experience of her owner and skipper, and her loyal hard driving crew, for this record of racing success.
When Bill Shaw chose Finisterre for the boat he would use as a model for his Shaw 24 he knew he could not put Carleton Mitchell at her helm so the basic design characteristics inherited from Finisterre had something to do with the fact that hull #1, Trina, won 17 consecutive races! This caught the attention of George O'Day and he told Olin he wanted a fiberglass 'junior ocean racer' along Trina's lines. Click here to see the Dolphin birth certificate.
Good Old Boat
Finisterre is the greatest good old boat of all time, not only because of her historic racing record, but also for the fact that for every mile she was raced, she was cruised 10.

After one of Finisterre's Bermuda wins, Carlton Mitchell crossed the Atlantic in her and cruised the Med. How many owners of modern stripped-out racing machines would even think of doing such a thing.

John Pruitt in Good Old Boat News Letter February 2007
The boat was expensive for her length. Finisterre was fitted with all the racing technology available for a boat of her era.
Yachting
The Bermuda race was popularised by Herbert L. Stone. Not only was he editor of Yachting magazine, but he was also the Commodore of Cruising Club of America when he gathered 23 cruising type boats to race from New London Connecticut to Bermuda. This was in June of 1923. 20 years later he realised that a great change, not unlike what sailors have seen recently with the AC35, was occurring in sailboat design. And it was occurring because of the Bermuda race.
The 20 years that followed were to see an evolution in design and rig that was to produce the best, fastest and most seaworthy types of small yachts ever built, whose coming into being was to be largely responsible for the utter neglect of the established racing rule classes…

Herbert L. Stone, Yachting June 1943, page 37
Stone passed on September 27 of 1955. The Royal Bermuda Yacht Club, for the first time in its 111 history honoured a non member by putting its flag at half staff on the day of his funeral. In most ways Stone's life is summarised by the greatest good old boat, Finisterre.
Fastnet
The Fastnet sailboat race is important in boat design because it has been highly influential in the growth of offshore racing and remains closely linked to advances in yacht design, sailing technique, and safety equipment. The 1979 Fastnet Race is particularly significant because it changed the way yachts are designed after the UK's worst sailing disaster which occurred during that race. 24 boats were abandoned, five boats sunk, 136 sailors were rescued, and 15 sailors died. Finisterre raced in the 1979 Fastnet Race, which is significant because it was one of the boats that survived the storm that caused the disaster. She is a very beamy, very heavy displacement Yacht with overhangs which provide extra waterline length with heel. Even today her centerboard is rarely mentioned in ocean racing literature.