Almost All is Lost
In 1973 there were 46 boat builders in Costa Mesa California and 24,000 boats were produced. A year later that number shrank to 22. Today there are less than a handful. Nonetheless Costa Mesa California remains a Mecca for boat owners, a sacred historical place to any who ever owned or dreamed of owning an ocean going sailboat. Westsail, Islander, Flicka, Crealock, Dana, Columbia & Lancer, Cal 20 and Cal 40 and Erickson all have historical ties to the city. And if you consider collaborative efforts, the list is even larger.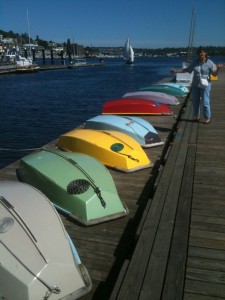 Costa Mesa is in Orange County and there were close to 100 boat builders in Orange County in the mid 1970s. Hence those who have or had interest in Santana, Shocks, I-14s, Sabots and Thistles, Penguins, el Toros and Lidos, which were all produced in the county, should be interested in Costa Mesa.
Designs from Bill Lee, George Cuthbertson & George Cassian, Bruce Farr, C. William Lapworth, and Shad Turner were built in the Costa Mesa community. Today, builders such as Dick Valdes and Maury Threien, who founded Columbia Yachts, have long gone and the Mecca today is threatened by redevelopment. Only Westerly Marine, Jenson Marine and MacGregor Yachts remain.
Yet there is hardly a serious sailor that doesn't know about Alamitos Bay – thirty miles from Meca, where some of the 1,960 Cal 20s are raced. Or about surf city, Marina Del Ray, where Coasta Mesa clan boats are prevalent and ready to take their owners to Catalina Island and beyond.
Most sailors are aware of the Costa Mesa built Cal 40s that in 2005 completed the 100 year anniversary Transpac, a race to Hawaii that has been run regularly since 1906. The Cal sailboats are among my favorites and several hundred ply the waters Murrelet cruises most frequently (the Waters of British Columbia and Puget Sound). It has been 25 years or more since the last one was produced.
I blame the east-is-the-least-coast for sailors for the failure to produce more. The vessels were originally called Lapworth, later California, then shortened to Cal. Most were produced in Costa Mesa at Jenson Marine, but some fine Cal vessels were also produced in Canada after Punta Marine purchased the sailboat line, moved production to Florida, and then to Massachusetts, milking the fine name of the vessels into bankruptcy. These vessels angered more than a few on the race courses. The Cal 20 dealers used the Swiftsure Lightship race in the mid 1960s to showcase the boats planing speed and surfing ability in 12-foot seas. Shirley Hewit, founder of Fleet 13 in the San Juans documents reports of 14 knot speeds in the July 2006 48 North.
A company in Rhode Island (Compton Yachts) revived the line in the 1990s but I speculate that there was more interest in convincing the boat buying public that the line was inferior than in making it successful. Al Naime, currently of Ferndale in Washington State, produced the vessels from 1962 until 1979 in Vancouver at Calgan Marine and there is hardly a marina in Washington state or BC Canada that doesn't have one of the Calgan or Jensen built vessels moored there. I believe that the ocean spirit of the Cals lives in the vessels still produced on the West coast, in particular those at the Costa Mesa Macgregor plant.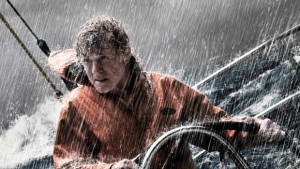 3 Cal 39s were used in the 2013 film All is Lost
Few know that Genuine Risk (a canting keel maxi), Pyewacket (a waterbalasted maxi), Beau Gest (a TP52) and Magnitude 80, three of arguably the fastest monohulls on the water, were unable to break the record of the Costa Mesa built Joss, a 65 footer until 2007. Costa Mesa has claim to one of the oldest unbroken records in ocean racing, the Marina del Rey to Puerto Vallarta race which is run alternate years from the TransPac. Macgregor continues to win for Costa Mesa, most recently in the split rig class and Cal 40s continue to race and Win in the TransPac. May officials preserve the history and the importance of Costa Mesa for boat building somewhere within the shopping centers now planned. Many are aware that 3 Cal 39s were used in the film All is Lost.
From: Roger MacGregor
HOT NEWS: After building 38,000 MacGregor sail boats, it's retirement time! (Sort of)

Here's the whole story:

It has dawned on the MacGregors that we are suddenly way beyond retirement age, and it's time to start a new career.

As of March 2013 we ended production of the MacGregor trailerable sailboats at our Costa Mesa, California plant, and are starting production of an all new 70 foot MacGregor.

My daughter Laura and son-in-law Paul Sharp, have worked with me for many years, and are now starting their own business in Florida, called Tattoo Yachts. They are presently in full production of a 26 foot powersailer similar to our MacGregor 26. They will be building an all new 22 foot powersailer. Their boats are sensational.

Please give them a call at 772-872-6761, or click on their website www.tattooyachts.com Their email address is info@tattooyachts.com.

The Sharps are very, very talented boat builders. They managed our MacGregor 65 program for many years and built nearly 100 of the big boats. Over the years, they have both played a major role in the design, production and marketing of all of our boats. A big part of their work has been to adapt our standard production boats to the unique requirements of each country. For decades, they have taken about one third of our 26's and sold them through their extensive overseas dealer network. The Sharps have moved from California to Florida to escape California's rather unfriendly high taxes and regulations, and to be nearer to their major United States and overseas markets and to a much larger supplier base. They have set up an active and enthusiastic dealer network.There are few people in the world who know as much about manufacturing and selling sailboats as Laura and Paul. With them, you will be in good hands. If you are interested in a trailerable sailboat comparable to the ones that we built, they are the ones to see.

Blue Water Yachts , in Seattle, (over the years one of our largest and best MacGregor dealers) will provide support for all of the MacGregor boats. They can provide the spare parts that you require, plus lots of friendly and competent advice and assistance. If you need parts or help, call them at 800-688-8626, or click on their web site http://www.bwyachts.com. Their email address is boatsales@bwyachts.com

It has been a rather amazing ride. Every year for the last 40 years, at least one model of our sailboats has been the best-selling cabin type sailboat model in the world. I can think of no other manufacturer, of any product, that has so totally dominated its market. We created the trailerable sailboat market and we have been widely copied. Very few competitors remain. We have lots of good reasons for retirement, aside from achieving geezerhood.

I have always admired athletes, businessman and politicians who hang it up when they're at the top of their game and start doing something new. That's where we are, and that's what we are doing now. We have outlasted all of our competitors, and it is a comfort to know that the Sharps will continue the type of business that our family has built.Our changing neighborhood has also been a big factor for hanging it up.

The photo below, taken from my office window, shows a big monster of a wealthy old folk's home that is being built directly across the street from our factory.

It will hold 275 old timers. It is a high-end retirement home with swimming pools, gyms, and all kinds of exotic stuff. It is definitely a high class operation — not at all what you might expect in an industrial area. At the other end of my plant was another boat builder. Their company has been sold and the owners are planning a large condo development. We had virtually no complaints from our neighbors over the years, and have operated without regulatory interference. However, we were surrounded by other boat builders, other fiberglass operations, and a lot of industry. Not homes.

It would be rather tough to a run boisterous industrial factory surrounded by residential zoning. There will be complaints. They'll be outside with their burning sticks, torches and signs screaming for more regulation. Many of them, being retired, they have lots of time to get worked up. Protesting surrounding industry likely will be their new hobby.

On the other hand, the new high value residential activity is a major upgrade to our neighborhood, and should help increase property values.

We will continue to be active with the big boats. We are nearing completion on the third MacGregor 70. These boats will present no problems for our new neighbors, as these are built in relatively low volume, entirely indoors, with epoxy resin, corecell foam cores, and exotic fiberglass fabrics. Epoxy has no significant odor or emissions, and their polyurethane finish odors are easy to deal with. We have accumulated a vast amount of experience with these materials, and we plan to build a bunch of the epoxy 70's.

Many years ago, when we were starting our business, the Los Angeles basin was an industrial powerhouse. We had all the big aircraft companies, giant auto assembly plants, tire companies, massive shipyards, and the early high-tech aerospace industries. We even had some really big steel mills. With very few exceptions, they are all gone.

At that time the sailboat sailboat building industry in our local area of was also going crazy. More sailboats were being built here than anywhere else on earth. The Industry employed many thousands of workers. Company names included Columbia, Cal boats, Erickson, Islander, Clipper Marine, Westsail, American Mariner, Newport boats, Aquarius, and of course, Macgregor. Catalina was nearby to the north and Hobie cat was a short distance down the coast. Glasspar, and Luhrs (power boat builders) were nearby. Trucks shipping boats filled the streets and it was clearly industrial chaos. We are among the very few successful survivors.

At the peak of all this boat building action, one of our competitors built a plant in the Santa Ana area surrounded by bean fields. Soon they became surrounded by housing and had to move out in the countryside. Another very large competitor had a huge plant in the Los Angeles area and was quickly surrounded by retail and other non-industrial operations, which caused them quite a bit of difficulty. They are now in Florida.

Very few boat builders are left in California. Most have either folded or moved out of state. The result is a dwindling supplier base. With fewer and fewer suppliers, our ability to negotiate lower prices is deteriorating. For some items, it's becoming increasingly difficult to find local suppliers at any price.

On the bright side, we have converted most of our property to industrial rental units.

Our tenants include North Sails, with one of the largest sail fabrication floors in the country, a race car builder, an audio-tv system designer, a large skateboard company, and other odds and ends of nifty operations.

We are keeping one very large unit for ourselves to build the MacGregor 70's, and to support the many thousands of boats that we have built over the years. Our two corporations will remain intact and functioning.

We've had a long and wonderful ride, and hope to be around for a long time.

Roger MacGregor