The Inner Harbor Boat Basin at Crescent City, CA was extensively damaged  by the March 11, 2011 earthquake off Sendai, Japan. Several dozen vessels and many docks were destroyed by wave cycles related to the earthquake-caused tsunami. These exceeded 8 feet (2.4 m). See the video below.
May 2014
We visited the Crescent City Harbor District during a road trip to  Redwood National Park in May of 2014. It had taken 3 years to rebuild the new facility and Cresent City was promoting the harbor.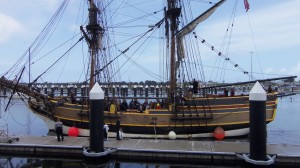 The original 12 to 16 inch in diameter piles were replaced with massive 30 inch pipe piles to better resist the next tsunami. C. Gerwick, Inc had accurately described the March 2011 event before it happened by applying the Boussinesq equations in their time solution  numerical model, which is called BOUSS-2D. The boat basin is strangely susceptible to tsunamis but there is confidence that the $34 million spent on the rebuild will hold off damage from the next one because of Gerwick expertise.The massive new piles were driven from 21 to 37 feet into harbor bedrock based upon the lateral load of tsunami currents and the strength of the rock. This compares with the prior piles that were drilled 5 feet into the rock at first and then impact driven another 5 after that.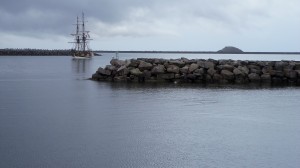 Crescent City receives Dungeness crab, rockfish, shrimp and tuna from commercial fishing vessels berthed at the marina.Prior to the devastation, about 80 such vessels called Crescent City home. The improved facilities include restrooms, showers, laundry, fish cleaning stations, a chandlery and four restaurants. There is also a 30 ton Travelift and nearby 230 ton shiplift platform.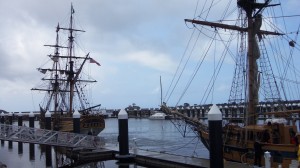 Transient vessels are being encouraged to visit during 2014 and the Lady Washington did so when we visited.
Video about fisherman who barely made it out of Crescent City Harbor as a tsunami approached. http://t.co/mMNozQMqf1 #iamprepared — NWS Reno (@NWSReno) November 7, 2013