I have been asked many times for proof that the Murrelet can be considered ocean worthy. Until November of 2001, I was unaware that proof (outside of the mathematical ratios) existed. Because the uninitiated do not consider a trip across the English Channel, which is done by Mac26x boats, or a trip from Key West to Cuba, which I would like to do, or even circumnavigatingVancouver Island, to be an ocean crossing or passage it is difficult to convince doubters.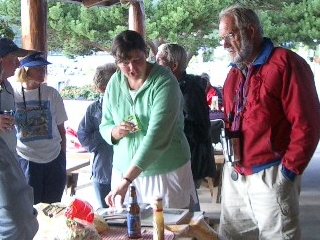 But even a world circumnavigation isn't proof to the close minded.
There is consensus among owners that boats like Murrelet were designed for coastal ocean cruising (something mistakenly believed to be less dangerous than ocean crossing.) However, the uninitiated find even that hard to believe owing to boats such as the Hunter 260, Odin 820, and Tattoo which are specifically limited by the manufactures' rating to inshore use.
The Hunter 260, Oden 820, and Tattoo CE Classification is C – designed for voyages in coastal waters, large bays, estuaries, lakes and rivers where conditions up to, and including, wind force 6 and significant wave heights up to, and including, 2 meters may be experienced. The Mac26m and the Odin 820's – because of the extra layer of fiberglass (in comparison to the Hunter 260) are potential offshore cruisers. Owner experiences in rough water over time may encourage their manufacturers to upgrade the clasifications. As the quote at the top of page 6 indicates, there is growing recognition that modern water ballasted designs do well in rough conditions. Macgregor Yachts has long endorsed the Mac26x for heavy weather racing. The X cruisers have always been manufactured marketed, and reviewed as ocean sailboats with equivalent CE Classification B. Owing to off centerline water ballast and the hard side chines and rigging, X cruisers have a relatively high angle of vanishing stability (exceeding 115 unballasted and 140 with water ballast) and are worthy of offshore classification. The only difference between a B classified vessel and one with the highest A rating is that the vessel must be largely self-sufficient. An X equiped with modern space saving electronics and water maker is worthy of that highest rating and could be expected to make passage faster than a Hunter HC50
It is important to note that Mac26x boats are already in Hawaii and other blue waters, with other long distance pocket cruisers such as the Flickas and Danas from Pacific Seacraft, having avoided ocean passage by being shipped in cargo containers.
This is how the Executive Director of a national development program in the Republic of Kiribati got a fleet of Mac26x cruisers to the Marshall Islands where they were used for transporting medical and dental teams and supplies and were routinely sailed 500 miles from the Marshall Islands to the Republic of Kiribati. The director, shane@moonrakerdevelopment.com holds a merchant marine license, has a hundred-ton ticket, has sailed the world in many vessels including Columbia's and Catamarans, owned a Mac26x and in 2002 indicates he would like to purchase a used one – probably regretting the sale of his first. He is a real fan of the cruiser and has sailed them in rough conditions and nothing broke. It is that kind of praise that makes me confident that Murrelet is a blue water cruiser. For a crew of two it may be the ideal blue water cruiser. The vast majority of voyaging boats are crewed by couples. While the use of the capsize risk ratio can exclude multihulls and TP52s from consideration, , it is very hard to define "blue water" so that it excludes Mac26x sail boats from at least consideration as true blue water cruisers.
Short of global circumnavigation the definition of ocean crossing/ passage is disputed. But trailer sailboats have circumnavigated.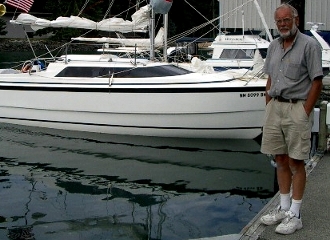 Edward D Mitchell edm32@juno.com, an early Mac26x owner, remembers a MacGregor engineer saying that "if a person wanted a blue water passage maker they should buy something like a [20 foot] Pacific Seacraft as they were designed for that." That isn't actually true. The Flicka style vessels were designed for fishing and are outfitted for ocean crossing. According to Mitchell the engineer "went on to say the 26x was designed for short cruises on the ocean and since you must be ready for what ever comes when you are anywhere on the ocean, it was designed to take what was thrown at it. The main question being what the crew could handle."
I met a couple who survived a hurricane in a Mac25. The boat did fine but the crew did give up sailing for a few years after the episode. So I think Mitchell's quote reflects the philosophy of the manufacturer.
Any debate on this is academic owing to the storm during the 1998 Hobart race. Close to 60 had to be saved during that race and 6 died. But a different race was taking place at the same time. The flat, thin, planing, water ballasted, center boarded extreme sailing machines took the exact same storm arguably at about the same place and did so without undo problems and single handed under sail!
Which is harder in rough seas (reaching or beating) is the only thing that can be debated because of this. The center boarders were on a beam reach and the Hobarters were beating. The facts solidly supports water ballasted cruisers as superior in rough sea.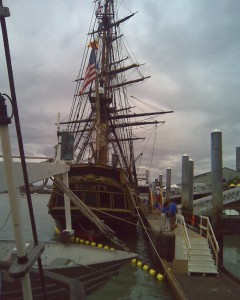 A lot of cruising is of the arm chair kind and from reading transcripts regarding the Hobart deaths cruisers know that gear storage impacts stability. (Review capsize risk ratio below.) The limit of positive stability for Murrelet and her kind is about 115 according to the manufacturer. The transcripts indicate that boats with "stability index of 110" are grandfathered into future Hobart races but that new Hobart race boats require 115. Hence Murrelet is more worthy of ocean racing than many boats currently doing so.
A boat with 110 stability ratio can not be knocked down by wind alone. However, all vessels can capsize in sufficient sea conditions. In 2004, an attempt to require a mathematically computed 128 limit of stability in ocean racing designs was orchestrated by those with vested interests in TP52s. In a stunning defeat, the grand prix (GP) Rule Working Party (RWP) rejected mathematically derived stability requirements.
The GP RWP did this to support movable ballast designs. Today stability tests for off shore monohulls are performed, not by mathematics, but in test pools where the sailboat must be righted after a capsize simulation. Overnight the TP52s were made obsolete because they adhere to 128 and higher mathematically derived stability ratios. They do this with keel attached weight. Weight that makes them slow when there isn't enough wind to carry them to hull speed.
In a mater of months after the GP RWP decision, Mac26x production in Australia began by a company known for its Sydney Hobart work, and a new British powersailer was launched. The British powersailer was followed by a Swedish one, the Oden 720, to complement theGerman Oden 820. By 2007 power sailers were proven blue water cruisers. The youngest sailor to cross the Atlantic solo did so in theBritish Powersailer Tide 28 Cheeky Monkey. As demonstrated by inappropriate meddling in a drunken boater's court case, the Mac26x movable water ballast design had been a target of those with vested interests in TP52s. I believe TP52 supporters deliberately disparaged movable ballasted vessels of any kind and the Mac26x in particular. The perceptions of the Mac26x in the sailboat ocean racing community are becoming more and more favorable owing to the GP RWP rejection of TP52 design notions.
In a stunning development forever altering perceptions of seaworthiness coming from external keel attached weight, the Austrailians encouraged their bronze Olympic medalist to sail the Bass Streight of Hobart fame in a Laser. The Chis Caswell of 1983 must have secretly cheered – his quote above being demonstrated as wize. But the Chris Caswell of 2005 objected to the publicity Blackburn obtained for demonstrating that ocean crossing in a small boat need not be considered dangerous given modern weather reporting and speed. Today, allmost all ocean crossings are done with chase boats, those being the flotila of racers or others who, like Columbus and his sail to America, know that there is safety in companion vessels and in experienced crew but unlike him can now benefit from accurate weather prediction and speedy designs.
Hence, I think some one will eventually sail a Mac26x from SF to Hawaii as part of a flotilla of larger and other vessels perhaps under the leadership of a company like The Moorings or from Vancouver to Hawaii or in the biennial West Marine Pacific Cup which specifically allows water ballasted vessels as small as 24 feet. There may have been a Mac26x ocean crossing from San Diego to Hawaii but I have been unable to confirm this.
The capsize risk ratio was developed after 15 died in the 1979 FastNet. The ratio was designed to penalize boats with a large beam for their high inverted stability and light boats for their response to large waves. Values of 2 and below are ocean passagemakers. Robert Perry, a well known boat designer who favorably reviewed Macgregor's 26 foot sailboats, has adobted some of Roger Macgregor's concepts. When I interviewd Perry he was just finalizing the design of the Flying Tigers. These and the August 2006 splashed Far Harbour 39 are meant to be transported in cargo containers as the Macgregor Yachts are. The FH39 is intended for use by voyaging couples who may wish to protect their investment by economically shipping their vessels rather than make passages that require lots of work or lots of expensive fuel, insurance and repairs. These 39 footers have beams that are one inch larger than the Mac26x and get much of their stability from sharp side chines. They also use aluminum masts, which can be jury rigged if broken – unlike carbon fiber masts – and the masts are deck stepped allowing them to be dropped for weather as well as shipping reasons.