Murrelet's potential as a racer was recognized shortly after her launch in 1999. The manufacturer even oriented its promotional literature around this potential. But racing organizations were reluctant to allow unballasted operation and it really wasn't until 5000 hulls were launched that serious racers began to take notice of the one-design racing potential. In addition, owners of contemporary racers were reluctant to allow rating of any vessel capable of exceeding hull speed. The redesign of courses to limit planing and surfing opportunities greatly reduced the racability of modern monohulls like Murrelet which are intended to do so.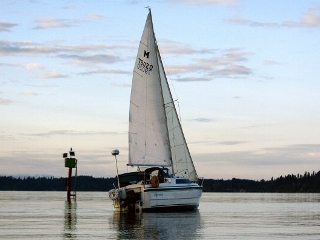 The newer light racing sailboats that – while not capable of planing were capable of surfing – discovered a technique of using a tug or ship's wake to make better time. Major events have been won using this technique and it is considered an acceptable tactic giving the crowded waterways upon which races are conducted and the occurrence of waves in nature. Partially owing to this development, in 2004 the reworking of courses and reluctance to rate water ballasted and planing vessels has lessened greatly and with that greatly improved the racability of the Murrelet in US waters.
In 2003 the PHRF Seattle Regional Sub-Council proposed a revision to the rating protocol to address water-ballasted boats.
It was noted that these boats are able to significantly alter their displacement and stability characteristics by dumping ballast water without penalty. Accordingly, a proposal was made to prohibit ballast water dumping during a race. The proposal elicited much discussion but no Motions. It was agreed that the base rating for these boats should be predicated on their optimum speed potential which is presumed to include changes in ballasted configuration during racing. The Council will continue to monitor these boats and adjust their base ratings under review or appeal if warranted.
There have been other rules developed to help Murrelet race.
The RRS for 05 – 08 allow you to skull (move your rudders back and forth) to position your vessel to receive a puff. This particular rule appears to favor tillers over wheel steering. What this means to racers with wheel steering and outboards connected to that steering is that the outboard must be easily disconnected from the steering mechanism and that the helm should be of the rack and pinion type so that sculling is possible. Murrelet has the former design requirement but lacks the later. Mac26x vessels post 2000 were fitted with rack and pinion steering. Sculling is still be possible on Murrelet owing to her dual rudders and a recently installed shorter steering cable.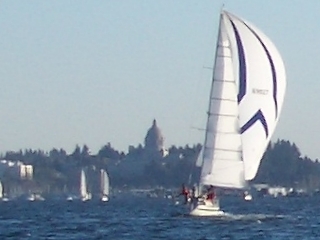 The 05-08 rule changes appear to be to be to get more boats with smaller crews onto the race courses and make those races fun even if the wind dies. When the wind dies, crew get restless – they may even force the captain to abandon the race! Sometimes catching just a small puff will get the boat moving and the crew interested and this sculling rule change is designed to do that. Blowing ballast when the wind dies also encourages crew to finish races.
The base rating for Murrelet in the Pacific Northwest assumes no water ballast. Furthermore, crews of UP TO 10 are being allowed on craft 20 to 30 foot because it is recognized that additional weight can improve performance on some boats. The 1,400 lbs of water ballast in the Murrelet is equivalent in weight to at least 8 crew members.
Water ballast has been recognized in PHRF racing as important in reducing average crew size. The addition of movable external ballast tanks to boats that previously did not have them is addressed as a rating adjustment. Any appendage alteration is also an adjustment. We adjusted our rating to allow lifting rudders and centerboard. Given that It was agreed that the base rating for water ballasted boats should be predicated on their optimum speed potential, which is presumed to include changes in ballasted configuration during racing, I think rudder lifting which like unballasted operation is specifically mentioned by the designer and manufacturer should be allowed. However at this time a rating adjustment will be applied to our kind of craft, should we operate them as intended in that fashion. We have no problems whatsoever in rating as a class.
There has been a concern that the Mac26x did not include a mechanism for dumping water ballast. This of course isn't true. The manufacturer intended the use of an outboard engine for doing that. Since engine operation is not allowed during a race, we try to blow water ballast out using a raft inflator – just like the Classics do prior to trailering. As movable water ballast comes of age in PHRF racing the Murrelet enters her prime.
I have yet to find an insurance policy that doesn't specifically point out that sail boat racing is not only covered but encouraged. Still sailboat racing was dying out in the US possibly because there is more than a little bit of frustration with PHRF class ratings. That frustration extends to one-design. The retort when you do not like a rule or proposed PHRF rule is "so if you don't like it go one-design". This kind of retort isn't being cooperative. It just turns potential racers off from racing. Even though there are now 300 M26X cruisers in Puget Sound, it is believed unlikely that 30 will bother with sail numbers and then half of those will never race. One-design requires either strong manufacturer support or the incubation afforded PHRF. NOOD racing in Seattle represents another option. The Thunderbird owners were able to race in the Seattle NOOD because they were able to get five boat owners to commit to the race fees. This is a possibility for Mac26x owners
Murrelet Rig & Sail Dimensions PHRF 2014

| | | | |
| --- | --- | --- | --- |
| Dimension | Type | Measurement | Description |
| Rig | I | 22 ' | height to top of jig sheave |
| – | J | 10′ | horizontal distance front of mast to base of forestay |
| Main Sail | P | 25′ 10″ | – |
| | E | 10′ 4.75″ | – |
| – | HB | 5.75″ | the maximum fore and aft dimension of the headboard |
| | MGM | 11′ 9″ | mainsail midgirth. locate midpoints of luff and leach by folding head of sail to the tack and the cluw. Measure between the luff and leach midpoints |
| | MGU | 5′ 8″ | mainsail upper girth. Locate the 3/4 points by folding head of sail to the midgirth measurment points. Measure between luff and leach 3/4 points. |
| Jib/Genoa | LLJ | 25′ 3″ | – |
| – | LP | 13′ 10″ | – |
| Spin | LLS | – | – |
| – | G | – | – |
| – | SPL | – | – |
| – | H | – | height to top of spinnaker sheave |
Practical Sailor notes in its review of the Mac26x that she has a sail area/ displacement ratio (SA /D) of 19 and a displacement /length ratio (DL) of 138, which "indicate the potential for speed" The Lady Katie Too!, a Mac26x on the 2001 fleet roster of PHRF Southern California, had been given a Year 2001 PHRF rating of 216. Vessels on this roster typically do not use roller furling and have bottoms that are specially prepared for speed, as well as lighter lines, special rigging, and precision tuning. This low a rating is not appropriate. The Lady Katie Too! followed in the steps of the first power sailer/ performance motor sailer, Lanser, which surprised the yachting world by winning races with speeds not theoretically possible for displacement hulls of similar waterline length. Lady Katie Too! sailed and motored to first in cruising class in the 1997 Newport to Ensenada Race becoming infamous. see (latitude38) and saddling Mac26x cruisers with a punitive PHRF rating for many years.
In early 2003 Murrelet rated 235 giving the unaltered Classics the rating advantage (higher rating). This is in spite of 7 years of Internet banter claiming the Classics were faster. The rating recognizes the intent of the designer to move water ballast on and off the vessel during a race, as Lady Katie Too! did in 1997. It will take 10 racing X boats in my area to adjust this rating. In 2004 we took the rating adjustment allowing crew to lift a rudder and obtained a rating of 241. I am not willing to give up spinnaker use but did not race with the asymmetric in 2004. My cruiser is far from racing form. Bottom paint, standard main and furling foresail. And the center foil lifting line has not been replaced by a wire to reduce drag. The wire arrangement was standard on X cruisers prior to 1998.
ALREADY IMPLEMENTED

Solid and Running Boom Vang
High Quility Genoa Sheet (light strong non absorbant)
UK Tape Drive Head Sail
Mainsail Bolt Rope loosened on luff
Single Line Reefing
Tell Tails
Rudder disconnect from engine (the 05 08 Racing Rules of Sailing allow you to skull if that will possition your boat for catching a puff to get you going)
GPS and Radar (GPS for VMG and obstructions, Radar for distance to next vessel and to determine if there is gain or loss)
Wisker Pole
Upgrade Bearings on CDI furler
Wax Rudders and Centerfoil
Centerfoil Lifting high tech thin line – PBO
Backstay Adjuster

TO BE IMPLEMENTED

Mainsail Bolt Rope loosened on foot
Sail slide jackline adjustment (so main sail luff is close to mast)
Lighter Forestay and Shrouds (PBO?)
Double headsail sloop rig
Genoa shrouds routed inbetween outer and inner stays
High Quality Main Haulyard
Tight Genoa Haulyard
Cunningham (so tack not needed after haulyard adjustment)
Rudder Alignment Bar (so windward foil need not be lifted in normal wind – missaligned rudders creates drag)
Ballast Valve to Port (as on early models – to allow blowning or taking on ballast while heeled on either side)
Diver Service to keep Bottom Clean (fast motoring doesn't get it all)
600 grit sand bottom paint
Spray on (rather than roll on) new bottom paint
Centerfoil lifting plan
Many if not most of the boats that race PHRF have a Tuff Luff which is a foil over the forestay that allows raising one sail while dropping the other. The "pealing" of sails using a Tuff Luff is very common in racing. Pealing describes the replacement of a normal wind foresail with one made of lighter material, such as might be appropriate for ghosting in very light wind or down wind.
Unlike the rounded sections of her predecessors and successors, the 26x has a hard turn of the bilge, which translates to a higher initial righting moment. As explained in the ballast section, water ballasted designs like the Mac26x, where the ballast is located as far outboard as possible, are roughly four times more stable at 10 degrees of heel, three times more stable at 30 degrees, and twice as stable at 50 degrees than similer vessels with weighted centerline keels. The combined factors of hard chine and off centerline water ballast means that when fully ballasted and crewed by four (the recommended number for racing in normal wind) the X will carry a full Genoa in 15-18 knots of wind before reefing the main is required to keep her on her feet. Fully crewed this way an X could have been designed to benefit from a Tuff Luff.
However, the yacht was designed for roller furling Genoas, a rather new rigging innovation when the first X hulls were launched, rather than Tuff Luffs. Roller furling Genoas add convenience and safety for the average number of active crew on a cruising vessel, which is two. When partially rolled there may be a performance decrease. However, modern laminated sails can be preserved on rollers where they are damaged each time they are brought down from a Tuff Luff or standard hank on forestay. Because such sails can be as light as the sails peeled for very light wind a Tuff Luff is less beneficial.
My cruiser looks fast and has been observed fast – this was my handicaper's way of saying little leeway will be allowed. He required me to present the sails for formal measurement. BTW, the 26M was marketed by BWY for a time as a water ballasted or unballasted self righting sail boat. The 26X's are viewed that way (as they should be.) Several dozen Mac28x crews investigated racing at Poulsbo as early as the Summer of 2001. Selected photos can be found below