The perfect blue water sailboat is a work in progress.
Novice builders and beginning yacht designers have been trained in the US to accept the notion of a trade off between sea worthiness, comfort, performance and cost.
This notion is prevalent on the east coast of the United States. The notion allows architects to rationalize vessels like TP52s (Trans Pacific 52s) that were marketed for crossing oceans but did not pass the capsize risk ratio. An ocean race boat, to get 60 percent of the performance of a buoy racer, can get only say 25% of the seaworthiness needed for a blue water cruiser is the argument.
The term blue water was not used during the age of commercial sail. According to Wikipedia, the term was applied to powered war boats in 1970 when Australia's last aircraft carrier was to be decommissioned. Australia "would no longer have a blue-water navy" it was said.


A 55-foot Alden ocean racing schooner is named Blue Water. She is just as famous as the Brilliant, a 61 footer that sails the Caribbean out of Mystic even today. Both were built pre 1950. Other than the vessel Blue Water, the term blue water sailboat is not supported in the historical record. The term was awkwardly applied in marketing sailing yachts in the late 1990s. For example, the ETAP 26i was marketed as a "rough and ready" blue water cruiser.
In July of 2006, Ann Hoffner in Saling Magazine (pg 53) defined blue water as meaning "that you are truly out of sight of land". This definition is interesting in that it explains why more boaters on the east coast of the US consider themselves blue water experienced.
On the east coast the land is flat and, owing to the curvature of the earth, in as little as 4 nautical miles the east coast US sailor would be out of site of land. On the west coast the hills and mountains may be visible even after a sail to Catalina island (a common weekend trip for a Costa Messa build), which is more than 10 times that distance. Sailors should see that the term blue water has little meaning. There is a definition for the word seaworthy and I think most feel that a blue water cruising boat is a seaworthy boat.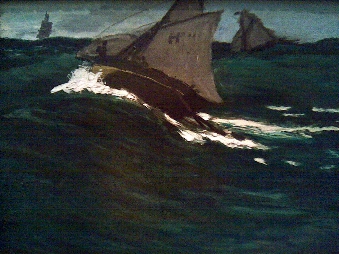 The problem with that is that the definition of seaworthy involves crew competency. A boat that is seaworthy when she comes into port, then is crewed with lubbers (those who only know life on land), will not be seaworthy when leaving port – by definition. Likewise a boat originally intended for lake only use, when crewed by competent patient seamen, can circumnavigate the globe. John Kretschmer, in a July 2006 Sail Magazine article, states that the perfect blue water boat is a work in progress. This statement is suitable given that crew competency changes during the duration of a voyage and during the life of her owner.
Mac26x Seaworthiness
As for its seaworthiness, Roger MacGregor said, "The 26 was designed for typical small cruising boat use — inland waters and limited coastal sailing. It is to small to be a long-distance passagemaker. It won't hold enough gear and supplies, and the long-term day-after-day motion of a small light sailboat can be tough on crew".

"There are thousands of these boats out there, and many have been caught in, and survived, some really extreme weather conditions, on both lakes an oceans. Like most small cruising boats, the 26 can handle high winds and nasty seas, but risk and discomfort levels increase dramatically in sever weather. To maximize fun and safety, most of our owners wisely keep a watchful eye on weather and try to avoid sever conditions."

Practical Boat Buying Belvoir Publications 2003 page 114
With modern electronics, sailboat crews can expect to avoid dangerous weather. This is now true for even displacement pocket cruisers, like the 24 foot Dana's from Pacific Seacraft. Weather reports are accurate for at least 10 days into the future and possibly up to 14 days. This means even slow boats can be positioned out of harms way. One of the compelling arguments for a larger than 36 foot cruising boat, up until 2015, was that it could be motored at hull speeds approaching 10 knots to make safe harbour before predicted storms.
In February of 2015, it was made clear to me by experts at the Seattle Boat Show, that no boat, not even 24 foot Dana's need weather extreme conditions. Vessels in 2015 should be operated like aircraft. In other words, they should land when weather is predicted to be extreme or alter course to avoid that weather.
TP52 End of Story June 2014
An era in Spanish sailing comes to an end today as King Juan Carlos abdicates. An avid sailor himself, Juan Carlos was instrumental in the rise of the TP52 class in Europe.

Together with his friend Jose Cusi he decided to join the TP52 class in 2004, propelling many new owners and sponsors into the class for 2005. Ten years later, the TP52 class has become the only monohull grand-prix racing in Europe.

It will be interesting to see what effect his abdication will have in sailing sponsorship in Spain.

VSail
The king had also been battling against blows against the royal reputation. Princess Cristina was questioned in court over allegations of corruption in February of 2014. This was the first time in the Spain's history that a member of the royal family was implicated in a criminal investigation. Spain's Navy, with the royal family's encouragement, operated a TP52. Pilar de Borbón, sister to former Spanish King Juan Carlos, also showed up among the clients of Mossack Fonseca, of the April 2016 Panama Papers fame.
USED BOAT OFFERINGS FROM BLUE WATER YACHTS