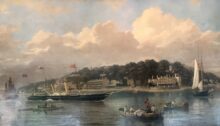 Two Royal Victoria Yacht Clubs, both with Royal designation,
One in Canada, one in the UK, both with a rich history and reputation.
The Royal Victoria Yacht Club in Canada is known for Swiftsure, the ocean sailing race. In the Pacific Northwest and British Columbia this is sailing's showcase.

The UK club was formed by Prince Albert to give Queen Victoria a yacht club she could enter and granting royal status made it even better.