While not true with a power boat, raceability – to use a Cardwell term – is a determinant of resale value in sailboats.

MacGregor Yachts established itself as a race boat company with the MacGregor 65. The MacGregor 65 Joss, in 1985 established a record that went unbroken 22 years – one of the oldest records in ocean racing history. In 1985 Richard and Camille Daniels' MacGregor 65, Joss, boosted by following breezes of 15 to 25 knots most of the way, raced the 1,125 nautical miles from Marina del Rey to Puerto Vallarta in 4 days 23 hours 0 minutes 4 seconds. Average speed: 9 1/2 knots. In February of 2007 the speed record falls in the Marina del Rey to Puerto Vallarta Race — After 22 years, Doug Baker's Magnitude 80 sailed the 1,125-nautical-mile course in three days 15 hours 51 minutes 39 seconds — at an average speed of 12.8 knots.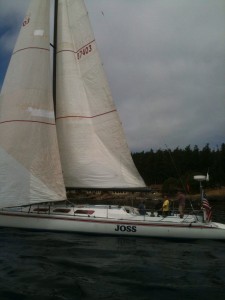 Any used boat that was advertised by the manufacturer  when new as for racing is exempt from the (most often presented as absolute) restriction on importing a used boat not put into service in Europe prior to 1998. Racing activity, in combination with US documentation, frees the racer cruiser or cruiser racer owner from the threat (real or not) of confiscation by EU custom authorities. See http://www.conformance.co.uk.
Cruising powerboat manufacturers in the US  take CE marks very seriously to the point of even relocating and retooling complete plants so that European rules are followed. The same care should be taken to preserve blue water cruising potential with a sail boat that is not to be raced as is being taken with US built cruising powerboats. Smaller cruising boats are often transported to major world events such as the Olympics and Americas Cup. This transportation is not legally possible for an unmarked boat that does not have an exemption. All, not just EU delivered sailboats, should be marked, to preserve the possibility of transportation to blue water EU destinations as well as resale value. A cruising sailboat that is banned from use in the Medituranian will have less value than one that is marked. There is a mechanism involving the CE marking of some used unmarked boats. See http://www.cemyboat.com/ and Special Cases Post Construction Assessment.
Some sailboats, like Murrelet can be transported in standard cargo containers should distances to a race exceed what is reasonable for trailering (usually thought to be 250 miles).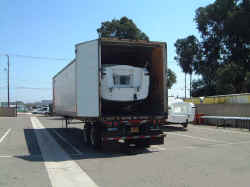 Murrelet was designed from the start for racing. Hence, even though she is of 1999 vintage, she can be transported and sailed in EU waters like Joss. However, time to work through the paperwork with the transportation company would be needed and you would have to state that the purpose of the transportation was racing.
Anthem is one of the fastest production cruising sailboat built, including even the large cruising catamarans. The relatively small, easily handled sailplan will drive the boat at speeds that no other cruising boat, and very few large racing machines, can match. In winds of 15 knots, the 65 can sail at over 11 knots, and speeds of over 25 knots can be reached in strong winds. For effortless sailing or for sailing in heavy wind, the jib and mizzen, without the mainsail, provides a lot of power and perfect balance. This is a great combination for singlehanding.
Anthem is optimized for light and heavy downwind racing, the most common type of long distance racing along the west coast.

A boat that performs well is generally safer to sail. It will certainly yield greater long term enjoyment. There is no greater frustration than the comfortable "houseboat" that is painfully slow. You can always make a fast boat go slower by reducing sail, but you can't make a slow boat sail fast. High speed, under power or sail, makes it possible to reach cruising areas or races that otherwise could not be reached within the time limits of a weekend or a vacation. A fast cruiser such as this can often cut the time necessary for a long passage by half, and you will go in style. Also, the yacht's high speed can reduce exposure to unfavorable weather conditions, and its speed gives it a better chance of completing a passage within the limits of weather forecasts, or of effectively seeking port to avoid impending storms. It is also a lot of fun to fly past other boats like they were tied to a rock. There is no sacred principle that says a great cruising sailboat should be slow.

The low, streamlined profile gives low windage, which greatly increases the speed of the boat when sailing or powering into the wind. The typical fat, high sailboat is burdened with an enormous amount of wind drag. (The low windage also means that there is a lot less force to cause the boat to drag its anchor.)

All competitors claim their boats will provide fast passages and virtually every boat can lay claim to an unusually long day's run. The issue is how often they get these good rides. Anthem will provide better speeds and incredibly long day's runs in normal, everyday sailing conditions.

There is one great way to prove speed. Racing! JOSS, a MacGregor 65, held the course record for the prestigious Los Angeles to Puerto Vallarta class for nearly 20 years, until recently broken by the 80′ super-maxi MAGNITUDE 80. In setting this record, the yacht averaged over 10.5 knots for 1150

miles, in generally upwind conditions, and hit top speeds of over 25 knots. 5 of the first 7 boats were MacGregors. MacGregors have finished first in dozens of major races, and held the course records for the rugged San Francisco to Los Angeles race and the crew of 2 Farallon Islands race. In these races, the 65s were competing with many of the fastest yachts on the West Coast. Anthem is a lot faster then the MacGregor 65's

The yacht FIRST CLASS, a Coast Guard licensed MacGregor 65 in daily charter service in Lahaina, Hawaii, consistently sails faster than any of the high speed beach catamarans that have heretofore dominated the charter business in the islands. The owner considers it to be the fastest yacht in the islands.

For an independent assessment of performance, look at the rating given to the 65s and ANTHEM by the Performance Handicap Racing Fleet (PHRF). PHRF is a racing handicap system that is based on performance, not the design of the boat. Race results have been tabulated over years of racing, and handicaps are adjusted to keep different kinds of sailboats competitive. The result is a system that tells the relative speed based on real racing history. There are about 50,000 boats racing under the PHRF throughout the United States. The PHRF handicapping system has given the M65 and Anthem ratings ranging from +12 to minus 42, (yes, minus 42) among the lowest (and fastest) ever issued. The handicap number is expressed in seconds per mile. In other words, at minus 42, history shows ANTHEM to sail one mile 108 seconds faster than the Swan 57 at +63. Here are some other ratings for comparison: The lower the number, the faster the boat.

Anthem -42

Swan 57 +63

Tayana 52 +138

C & C 62 +24

12 meter +24

Valiant 40 +138

Catalina 42 +105

Baltic 51 +6

Ericson 41 +132

Irwin 52 +102

J40 +87

Petersen 52 +5

Hunter 40 +102

We have chosen to ignore measurement handicap rules. We see no reason to slow up the boat to improve its handicap. Being first to get there is a lot more fun, and it seems to be what gets the most publicity. Moreover, you can count on the fact that handicap rules will always be changing, and that any boat designed to a rule will be obsolete, and of limited value, in a very short time.

SINGLE HANDED SAILING: This is one of the easiest boats to sail single handed. The self tending jib eliminates sheet tending with each tack. All the cockpit winches and controls are near the helmsman. It is still necessary to go to the mast for reefing, but all other lines are led aft. (We do not lead reefing lines and the mainsail halyard to the cockpit be­cause the extra blocks add friction to the system and create a lot of extra load).

Single handed sailing requires a good auto pilot, so that the boat will sail itself while sails are raised, sheets are tended, and navigation and housekeeping chores are performed. With a couple, sailing the boat is a snap. Single handed sailing requires a bit of care on how much sail you carry and how much open space you have for raising and handling sails. These boats have been sailed thousands of miles with only one person aboard.

ADVANTAGES OF A LONG, NARROW HULL: Speed, of course, is the big one. A long slender hull offers a long waterline, and waterline length is the major factor in determining how fast a boat will be. You can see it in the lack of wake when the boat is going near or beyond hull speed. Since a slender hull pushes less water aside in the form of waves, it is not as limited by a defined hull speed. The theoretical hull speed on this yacht is 10.7 knots, but it will easily slide thru this barrier and go much faster.

If you wish to see the speed advantage of a narrow hull, compare a long slender rowing shell with that of a plump dinghy of equal weight. Given the same amount of effort, the difference in speed is astounding.

The easily driven, narrow hull requires a very small sailplan to go very fast. This makes the boat easier to sail. The boat has a lot of sail for its weight and size, and sails best when deeply reefed in heavy winds.

There is also a major safety advantage. Under really extreme circumstances, if a wide yacht gets upside down it may stay there for quite a while, until it gets set upright by a wave, or floods and sinks. Over the past few years, the rating authorities have been doing a lot of soul searching about the wide boats that the handicapping rules have tended to create. Many can no longer be considered self righting. A narrow yacht with deep ballast, like ANTHEM, will recover from a severe roll a lot more rapidly. It is our opinion that, regardless of the dictates of the handicapping system, an oceangoing yacht should be self righting. The angle from which the 65's and Anthem will right itself exceeds that of most other production sailboats.

A long, slender yacht such as this is easy to keep on course, unlike many of the IOR based racing and cruising boats that are difficult to steer, particularly downwind in large seas. The balanced rudder is a long way aft, and exerts enormous steering power with minimum loads for the helmsman. The yacht can be turned in virtually its own length.

Length provides an extremely stable, comfortable motion at sea, with far less pitching (or hobby horsing) than the typical cruising yacht. The hull knifes through waves with little slamming. When sailing hard into the wind, most of the spray is generated at the bow. With the rear cockpit location, it is rare to have spray get as far aft as the cockpit. Broad beamed boats shoulder a lot of water aside, and it ends up being blown over the boat. The foredeck is no place to be in heavy weather on any boat, but the aft end is nicely isolated.

A wide cabin is no doubt attractive at a boat show or at a dock, but when sailing at any angle of heel, it becomes a real challenge. Picture a boat with a 20 foot beam, and thus a 20′ wide main salon. When this is heeled 10 to 20 degrees, it is a long, uphill climb when going to the windward side, or worse, a long downhill roll to the leeward side. In the center, there is little to provide support. A narrower cabin gives a lot more safety and security at sea. Another advantage of ANTHEM'S hull shape is that the usable width extends for much of the boat's long length. On a plump, shorter boat, the wide beam may only extend for a few feet before it tapers off to bow and stern.

Privacy is also a factor. The staterooms are a long way apart, separated by the lounging and working areas of the boat, and the occupants can be assured of far more privacy than in a shorter boat. The rear sleeping area is really remote, and ideal for the charter crew or noisy kids. This area is separated from the main living area by a soundproofed watertight bulkhead.

Roger Macgregor