Articles in sailboat magazines sometimes have a Jimmy Buffet theme. Jimmy is the "son of a sailor" who is "just glad" he doesn't live in a trailer. The comparison of a boat to a trailer home is a natural one and Macgregor yachts specifically points out that its powersailers can be used like Recreational Vehicles (RV)s when on their trailers.

Unlike an RV, however, when the park is crowded or full, owners can launch and anchor in uncrowded conditions, the RV then becoming a Recreational Vessel rather than simply a vehicle. John Guzwell, of Trekka, expresses a similar theme to Buffet's. Trekka did not have standing head room and, when asked if he felt that confining, he noted that he could always go topside when wanting to stand upright. Both Buffet and Guzwell separate the confinement one finds in a trailer home from the freedom one gets from their boat. This notion is somewhat lost on those who refer to boats (such as Bayliner's Buccaneer) in a derogatory way which is often implied in the terms RV and it's companion word – boxy.
The production boat designer must be stressed constantly over the issue of what will sell vs what will really meet the needs of the recreational boater. The human engineering task in boat design is a huge one. Many, owing to Buffet and sailors like him, prefer the racier look of Murrelet because it is almost the opposite look of an RV. White liners and unfinished storage compartments on what you find on racing sailboats. Twin rudders with unfinished exposed controls and a wide fan tail are found on ocean racers. Color and finishing play a big part in attracting purchasers.
Dockside Comfort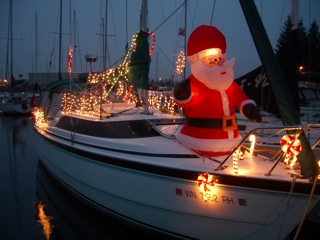 The factory-provided-creature comforts on all Mac26x cruisers are done in pastels. (Mine are light blue with pinkish overtones). Pastels are known by careful study to attract older purchasers and the majority of Mac26x cruisers are owned by individuals who have had experiences with other boats, many owners retired or older active military and military contractors and engineers.
Contrast this with the earth tone "lounge" look of classic sailboats that is often referred to as the wood look. This has been found by human engineer studies to appeal to young purchasers. Earth tones appeal to young women and the lounge look to young men. Hence young newlyweds often can agree on the desirability of the Mac26M (not my boat) kind of interior.
When appeal to a target group is the design goal, rather than seaworthiness, efficiency and recreational purpose, there will be disappointment in the vessel after some period of time. Designing a boat with contributions from many is a technique that isn't favored by boat reviewers, or the US Navy. Often, as is the case with many of the Beneteau and Hunter sail boats, a committee is formed to compete and win a design contest. The first relevant example for this discussion involves the Tasars.
The designer of the Laser and designer of the Tasar were successful in bringing out the Laser II, which my dad sailed. However, when they formed a larger group to develop the Laser 28, which included Bruce Farr, to provide a sailboat that "would offer more comfort and more room for growing (Laser/Tasar) families", the result was satisfactory only to a small niche group of boaters. I often wonder who were the design teams that competed for the Laser 28. In any case I very much agree with reviewers and the US Navy that superior engineering isn't likely with such an approach. I believe it best to start with superior engineering, as in Murrelet and then let owners add features appropriate for their families.
The second relevant example is what I think happened in the design of the 26M. Many owner's spouses will complain about lack of standing head room on a Mac26 classic or similar trailerable sailboat. The solution is sometimes to trade up for a larger water bound sailboat. This is often done by the 5 foot more every 5 year rule.The Mac26m meets the standing head room requirement and appeals to that niche of sailors. But for growing Laser/Tasar type families speed is required even in the absence of wind for the schedule requirements of a family and hence powerboats become favored. The 26m addresses this. However features, like dinettes, showers, and stability when dockside, for child raising are only met with the Mac26x.
With a mac26x powersailer, the interior is already powerboat like. The trading up to a different boat with powerboat creature comforts is less likely because of that. Instead Mac26x owners will add features appropriate for their families.
Improvements were made continuously to the Mac26x when it was in production. This meant that new boat owners benefited from the experiences of the pioneer owners. But early purchasers of the vessel also benefit either from warrantees or from proven to be of value upgrades. The upgrade potential appears to be reflected in used Mac26x prices. The vessel holds its resale value.
As demonstrated by the photos above (not my cruiser), while one might argue with the means, the end result is an unsinkable high tech yacht, likely capable of circumnavigating the globe as well as winning a few races. After making some of the numerous potential upgrades and fitting out the Murrelet with desirable dealer and third party options (including 110 and gel batteries), I do not view anything except a 40+ footer or possibly a multi hull (power or sail) as a substitute recreational vessel.
On a long passage, without a large crew, there really is little time for luxury. The point is that the factory "refrigerator look" interior of Murrelet does not imply a lack of luxury in comparison to other under 40 foot and even larger sail boats. Crew appreciate shore leave and the most wealthy mega yacht owner may bunk aboard very infrequently. Does anyone really find luxury on a boat? Boats are not really about that.
However, there is no need to forgo luxury. The best restaurants and resorts are usually by the water. We take advantage of shore based accommodations at least once per week while cruising and there are no better on any vessel at any price than those available on shore when expecting bad weather or after a hard long passage.
We usually find that there have been cancelations at the resorts when weather is predicted to be bad. When the weather is fine, the view from Murrelet's below deck table or cockpit while dining can be better than that available on shore. When that happens it is time to visit the local market or bargain with fishermen. I do admit to having the best meal (garlic shrimp and salmon) aboard a boat. It has inspired me to learn how to fish.{\rtf1\ansi\ansicpg1252
{\fonttbl}
{\colortbl;\red255\green255\blue255;}
}