Twin keels become more effective with increased angle of heel, while a single keel becomes less effective.
"No other nation has put so much faith in bilge (or twin) keels as the British. Other countries have flirted with them, but we became so enamored with the concept that they were the first choice for anything less than about 36 feet."

Practical Boat Owner
Buying A Second Hand Boat, April 2005, pg 54
---
In light wind (less than 7 MPH) there is really no capsize risk in our kind of sailboat. They are endorsed by the manufacturer for unballasted operation under power and sail. Unlike other trailerable sailboats, the hard side chines in combination with the off centerline water tank structure and duel rudders form twin shallow keels so that the boat tracks well under sail. Twin keels become more effective with increased angle of heel, while a single keel becomes less effective. The Stevens experiments regarding external ballast tacked onto the side of Onkabye's hull could well have demonstrated this. It is observable on our vessel when the ballast tanks are flooded. Blue Bird, the first twin keel yacht, was built in 1920 by Lord Riverdale. She was 25 foot and had twin rudders not unlike a Mac26x.
The notion that a bilge keeler is also a shallow draft vessel apparently doesn't hold true. The positive flotation Sadler 26 masthead sloops, which should be compared to Mac26x cruisers, (because they are unsinkable, use one-piece molding to form the interior, have an exceptionally ridged structure, and use Lewmar winches), had a fair amount of draft. The 3 feet six inches of draft made them just barely trailerable.
However these boats can stand upright on two legs when low tide makes that necessary and hence the twin keel form is the most desired of this David Harding design. David Harding also designed the Contessa 26, a cousin to the Folkboat, and like these vessels the Sadler 26 has circumnavigated the globe. Today PBO calls them superb all-rounders, brave little boats that are a joy to sail and implies that, in experienced hands, they are a match for today's crop of small performance cruisers (probably referring to the MacGregor 26 cruisers). pg 100 April 2005.
As mentioned previously, Laurent-Giles proposed twin keels for Trekka and while this keel form was rejected by Guzwell in favor of a bolt on centerline keel, Laurent-Giles was successful in getting the concept built on the twin keel Westerly Centaur 22s, about 15 years later. The Westerly Centaur 22s today are viewed as a breakthrough in modern boat building. They use asymmetric keels of 2 foot 2 inch size which were abandoned to gain windward performance such as is found on the Sadler 26. Note that windward performance of a twin keeler in rough water is superior to a deep single fin vessel because of the roll and pitch dampening abilities of the keels.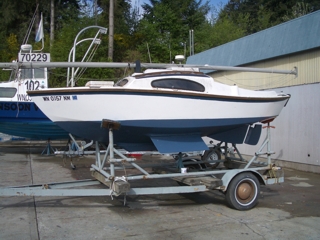 Twin keels assist in planing because they reshape the wave pattern to produce a flatter wake and can reduce the effort needed to break out from hull speed. The Mac26x cruiser is reinforced with an additional layer of fiberglass laminate that was reported to have been added by the manufacturer to absorb the pounding and reduce the vibrations on the hull that occur when the boat is being powered by motor at high speeds. Because the prop can work in clear water without turbulence from a centerline keel and/or rudder, handling is more efficient, less fuel is consumed, the boat is faster and can be operated better when the engine is in reverse. The topside of the Mac26x cruisers was modified post 1998 so it would be lighter this further reducing capsize potential. Hence I see little problem in racing unballasted when winds are light. Multihulls race under special rules but are not required to be ballasted and combined weighted-keel-water-ballasted vessels such as the Hunter HC50 and Guzwell's Endangered Species fill tanks only in heavy wind.