Canadian cuisine is a mix of cultural influences, resulting in some interesting culinary combinations. Here is a description of some of the foods and drinks attributed to Canada: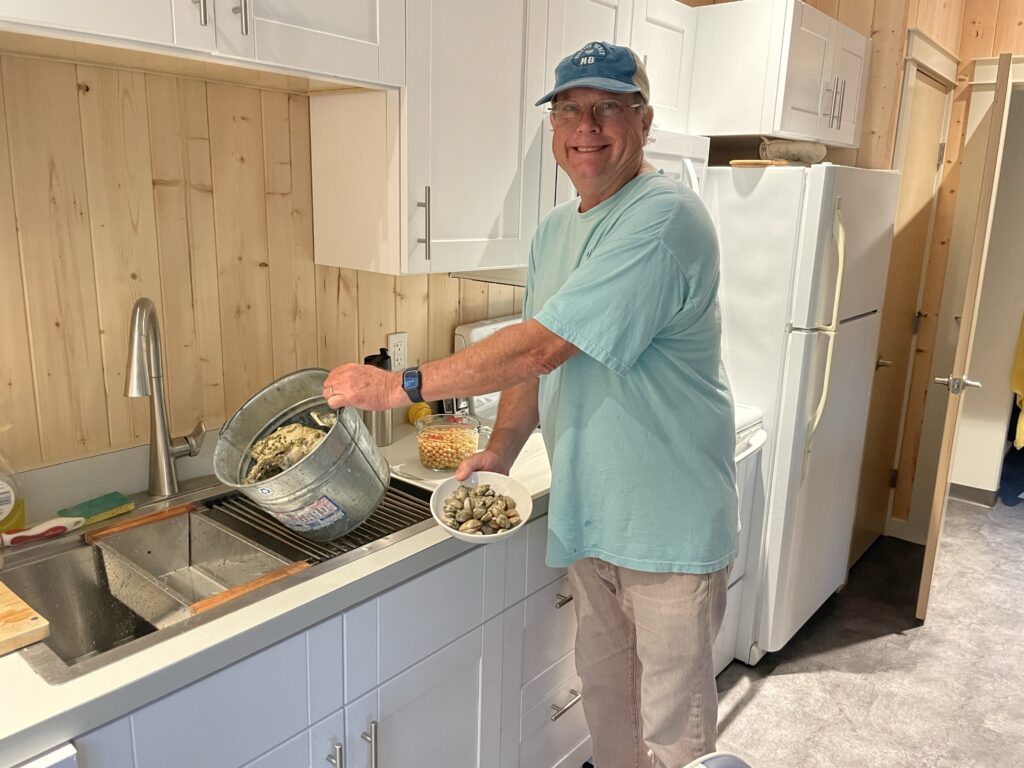 Bannock
Bannock is a type of bread that is a staple in Indigenous cuisine. It is a simple bread made with flour, baking powder, salt, and water, and can be cooked over an open flame or in a pan13. Traditionally, First Nation groups cooked their bannock by various methods. Some rolled the dough in sand then pit-cooked it. When it was done, they brushed the sand off and ate the bread. Some groups baked the bannock in clay or rock ovens. The following is an easy way to prepare Bannock by frying.
Nanaimo Bars
Nanaimo Bars are a beloved Canadian dessert that originated in Nanaimo, British Columbia. They consist of three layers: a wafer, nut, and coconut crumb base, a custard icing, and a layer of chocolate ganache1. It was first deemed the Nanaimo bar by Vancouver Sun columnist Edith Adams in 1953 when she wrote that the dessert came from Nanaimo. This is important to note, Newman says, because other places such as Mississauga and England have tried to claim it as their own. The Nanaimo bar is a distinctively Canadian no-bake treat named for a city on Vancouver Island.
Maple Syrup
Maple Syrup is a sweet syrup that is made from the sap of maple trees. Canada produces 80% of the world's maple syrup, and it is a versatile ingredient that can be used in a variety of dishes156.
Saskatoon Berries
Saskatoon Berries are sweet, purplish-blue berries that are found in the western Canadian prairies and northern US states. They look very similar to blueberries in size and appearance, though their taste is somewhat unique, described as sweet and nutty236.
Caesars
Caesars are a popular Canadian cocktail that is similar to a Bloody Mary. They are made with vodka, clamato juice, hot sauce, Worcestershire sauce, and a celery salt rim15. A Caesar is a cocktail created and consumed primarily in Canada. It typically contains vodka, tomato juice and clam broth, hot sauce, and Worcestershire sauce, and is served with ice in a large, celery salt-rimmed glass, typically garnished with a stalk of celery and wedge of lime. While both the Bloody Mary and the Caesar are very similar, there's one big difference in ingredients between the two. They each have a vodka base, but Bloody Marys feature tomato juice, while Caesars make use of clamato, a combination of clam and tomato juice. "Walter, that's a damn good bloody Caesar."
Ketchup Chips
Ketchup Chips are a popular snack in Canada. They are potato chips that are flavored with ketchup seasoning15.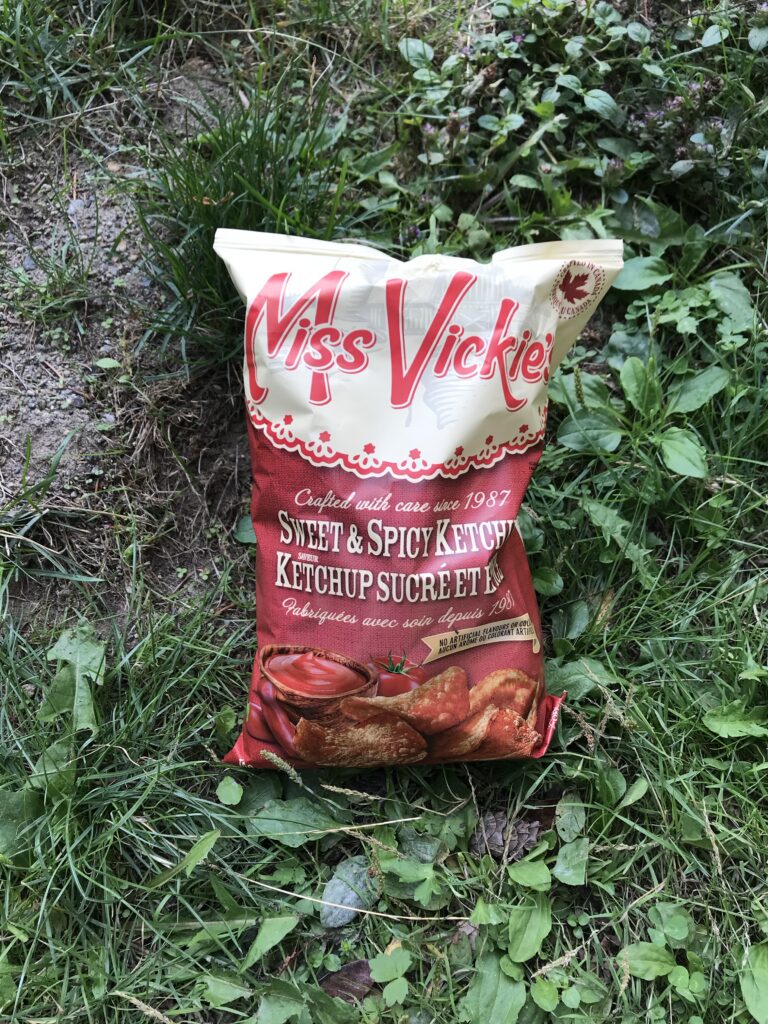 Montreal Smoked Meat
Montreal Smoked Meat is a type of deli meat that is made by curing and smoking beef brisket. It is typically served on rye bread with mustard15.
Poutine
Poutine is a classic Canadian dish that consists of french fries, cheese curds, and gravy. It is a popular comfort food in Canada15. It emerged in Quebec, in the late 1950s in the Centre-du-Québec region. Its rise in prominence has led to its growing popularity throughout the rest of Canada. Annual poutine celebrations occur in Montreal, Quebec City, and Drummondville, as well as Toronto, Ottawa, New Hampshire, and Chicago.
Tourtiere
Tourtiere is a meat pie that originated in Quebec. It is typically made with ground pork, beef, or veal, and is seasoned with spices like cinnamon, cloves, and allspice145.
Butter Tarts
Butter Tarts are a classic Canadian dessert that consists of a pastry shell filled with a mixture of butter, sugar, syrup, and eggs. They are a sweet and decadent treat15. The butter tart should not be confused with butter pie or with bread and butter pudding.
Ketchup and all Dressed Potato Chips
Ketchup and all Dressed Potato Chips are popular snack foods in Canada. Ketchup chips are flavored with ketchup seasoning, while all Dressed chips are flavored with a combination of ketchup, barbecue, and sour cream and onion seasonings15.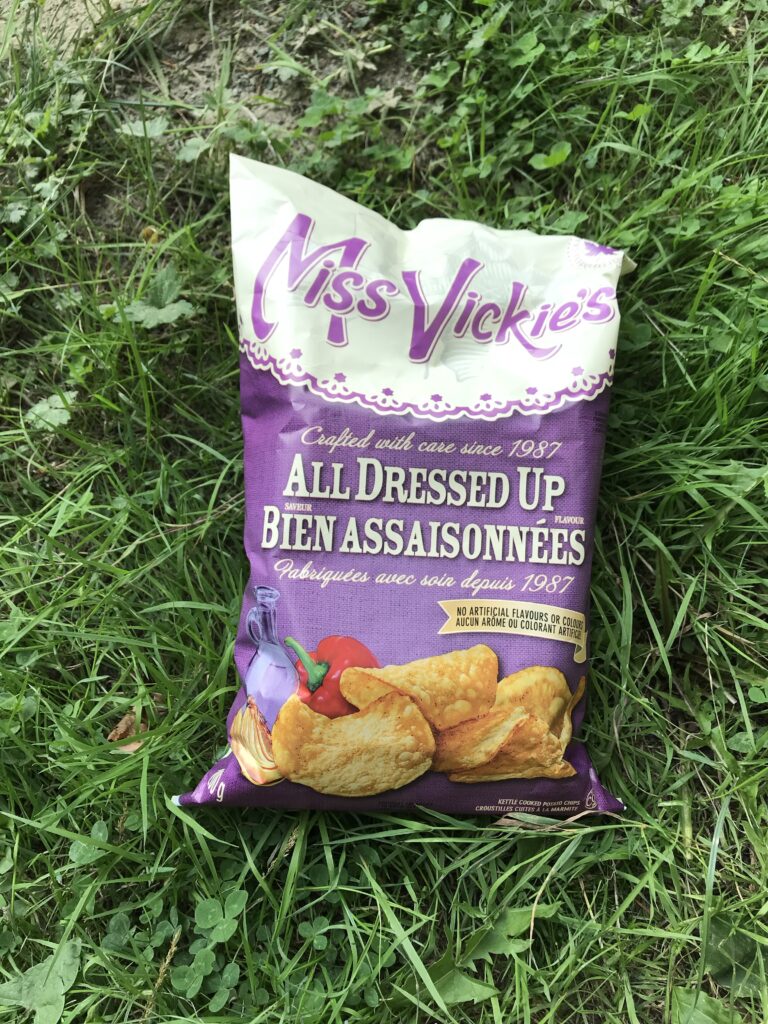 Beaver Tails
Canadian Peameal Bacon
Canadian Peameal Bacon is a type of bacon that is made from lean pork loin that has been brined and rolled in cornmeal. It is a popular breakfast food in Canada16.
Flipper Pie
Flipper Pie is a traditional Newfoundland dish that consists of a savory pie made with seal meat2.
French Canadian Yellow Split Pea Soup
French Canadian Yellow Split Pea Soup is a hearty soup made with yellow split peas, vegetables, and ham or bacon. It is a classic French Canadian dish3. This is a water-based soup made from dried legumes grown fresh in French Canadian regions where it is referred to as soup aux pois.
Pudding Chomeur
Pudding Chomeur is a classic Quebecois dessert that consists of a cake-like pudding that is baked in a maple syrup sauce3.
Ice Wine
Ice Wine is a sweet dessert wine that is made from grapes that have been frozen on the vine. It is a specialty of Canada, where the cold climate is ideal for producing this type of wine36.
Steamies
Steamies are a type of steamed hot dog that is popular in Montreal2.
Hodge Podge
Hodge Podge is a traditional Maritime dish that consists of a soup made with fresh vegetables, cream, and seafood3. Hodge podge is a favorite vegetable stew from Nova Scotia. It's typically made in the fall with the freshest vegetables possible, just as the gardens are being harvested. The word derives from the Anglo-Norman and Middle French hochepot, "a dish containing a mixture of many ingredients, especially a kind of stew made with minced beef or Canada goose and various vegetables".
Ployes
Ployes are a type of pancake that is made with buckwheat flour. They are a traditional food in the Acadian region of Canada3. First invented in Nova Scotia, they later spread to the St. John Valley and Maine. Buckwheat flour, wheat flour, baking powder, water. The taste of the buckwheat (and the resulting ployes) is milder—less assertively nutty—than what you may know from kasha or soba noodles, and faintly grassy. As they're typically made, ployes are utterly simple. A ploye, contrary to a pancake, is only cooked on one side (but some turn it over after for a few seconds). Once cooked, it is buttered and covered in maple syrup, brown sugar, molasses, or cretons. It is then rolled or folded up and eaten.
Chicken Fricot
Chicken Fricot is a traditional Acadian stew made with chicken, vegetables, and dumplings3.
Lunenburg Pudding
Lunenburg Pudding is a traditional Nova Scotian dessert that consists of a steamed pudding made with molasses and spices3.
Rappie Pie
Rappie Pie is a traditional Acadian dish that consists of a pie made with grated potatoes and meat3.
Blueberry Grunt
Blueberry Grunt is a dessert that originated in the Canadian East Coast. It is a dessert of tea biscuit dumplings cooked in blueberries, typically served with ice cream or whipped cream3.
Blueberry Duff
Blueberry Duff, also known as Blueberry Pudding, is a steamed pudding that originated in Canada. It is a classic steamed pudding that is made with blueberries and is sometimes served with dinner or as a dessert with blueberry or rum sauce123.
Jiggs Dinner
Jiggs Dinner is a traditional Newfoundland dish that consists of boiled salt beef, potatoes, carrots, turnips, cabbage, and pease pudding2.
Vancouver Spot Prawns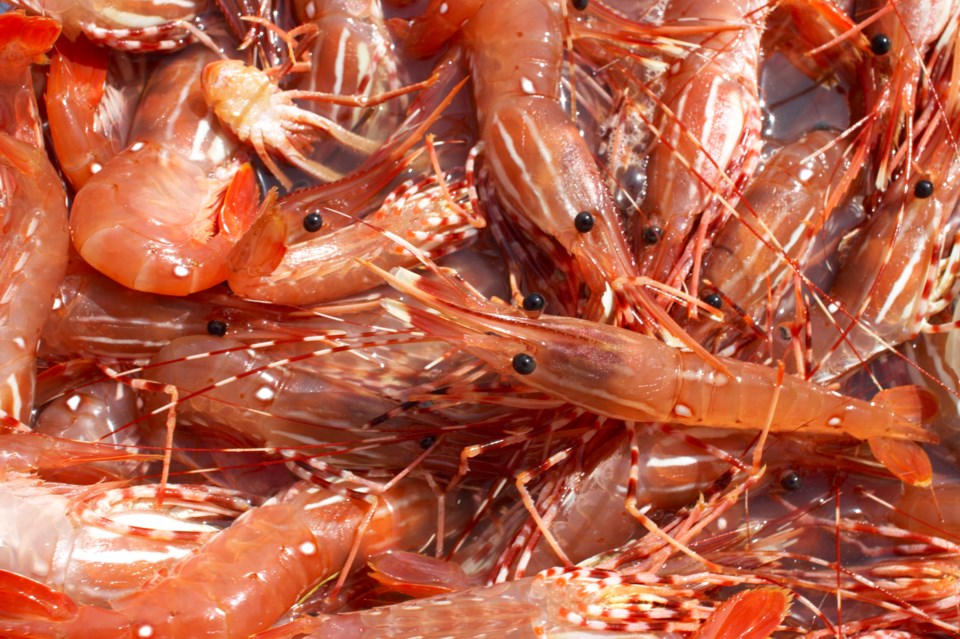 Vancouver Spot Prawns are a type of prawn that is found off the coast of British Columbia. They are a delicacy in Canada and are typically served boiled or grilled3. Vancouver holds a Spot Prawn festival each year that supports scholarships for culinary students, and to further education, mentorship, and sustainability initiatives.
Salmon Candy
Salmon Candy is a type of smoked salmon that has been sweetened with maple syrup or honey. It is a popular snack in Canada3.
Cretons Quebec Pate
Cretons Quebec Pate is a type of pork spread that is popular in Quebec. It is typically served on toast or crackers3.
Oreilles de Crisse
Oreilles de Crisse is a type of pork rind that is popular in Quebec. It is typically served as a snack or appetizer3. Its name means "ears of Christ" and it is generally served in "cabanes à sucre" in spring time, as a salty and crunchy side contrasting with maple syrup-laden foods.
Toutons
Toutons are a type of fried dough that is popular in Newfoundland. They are typically served with molasses or syrup2.
Persians
Persians are a type of sweet roll that is popular in Thunder Bay, Ontario. They are typically topped with pink icing and sprinkles2. A Persian, Persian roll or Pershing is a fried sweet roll or doughnut with a spiral shape similar to a cinnamon bun. In Thunder Bay, Ontario, Canada, it is credited to have originated at Bennett's Bakery in Port Arthur, where it is served with a sweet, pink icing made of either raspberries or strawberries. Traditional lore is that the Persian was named for U.S. general John "Blackjack" Pershing[3][4]
---
Canadian cuisine, oh how diverse,
From coast to coast, it's hard to traverse.
But there are some dishes that we all know,
And love to eat, wherever we go.
Bannock, a bread that's simple and plain,
Made with flour, baking powder, and rain.
Nanaimo Bars, a dessert that's sweet,
With a wafer base and chocolate on top to complete.
Maple Syrup, a treat that's pure,
From the sap of a tree, it's hard to ignore.
Saskatoon Berries, a fruit that's unique,
Sweet and nutty, it's hard to critique.
Caesars, a cocktail that's spicy and bold,
With clamato juice and hot sauce, it never gets old.
Ketchup Chips, a snack that's loved by all,
Potato chips with ketchup seasoning, it's hard to stall.
Montreal Smoked Meat, a deli meat that's cured,
Served on rye bread with mustard, it's never obscured.
Poutine, a dish that's hearty and warm,
With fries, cheese curds, and gravy, it's never a harm.
Tourtiere, a meat pie that's seasoned with spice,
Made with ground pork, beef, or veal, it's always nice.
Butter Tarts, a dessert that's rich and sweet,
With a pastry shell and a filling that's hard to beat.
Beaver Tails, a dessert that's fried and shaped like a tail,
Topped with sweet toppings, it's never a fail.
Canadian Peameal Bacon, a breakfast food that's lean,
Made from pork loin, it's hard to be mean.From coast to coast, Canadian cuisine is diverse,
With dishes that are unique and hard to traverse.