It was pretty galling to watch the water-ballasted boats taking the conditions very much in their stride – and with significantly more comfort for their crews. 
The Cascails fleet exhibited a good representation of current offshore design, and it was interesting to see how they fared. Sitting on the weather rail of a Corel 45 was a pretty uncomfortable mix of the offshore washing machine spin-and-wash cycles that many of us are familiar with. It was pretty galling to watch the water-ballasted boats taking the conditions very much in their stride – and with significantly more comfort for their crews. It is probably fair to say that this was one of the tougher offshore races that I have completed – and that includes the Sidney to Hobart.

Chris Little, Commodore Seahorse International November 2004 pg 4
Coming from a powerboat background, and knowing that the new trawlers ballast fuel to keep the vessels from excessive rolling, I consider the movement of my water ballasted sailing cruiser natural. However, sea sickness, is possible. We were prepared to be sick on a several hour trip to Friday Harbor from Washington Park in 2002. The seas were bouncy if not rough and since we were motoring in a group it was necessary to maintain the speed of the catamaran lead boat.Owing to the unwavering tall mast of the catamaran there was some noticable rolling on the Mac26x cruisers at slower speed. But no sickness was experienced. Water ballast proved its worth that day.   Nausea, comes from the Greek word for ship, or naus. I know that keel boaters, accustomed to the feel of a weighted keel, expect to find water ballasted sail boats a visceral problem. Keel boats with rounded bottoms (while tipping more than a flat bottomed vessel when docked and rocking more in light seas without wind) "stiffen up" when at a heel. Hence, I believe, those aboard weighted keel vessels making good under sail often have an easier time avoiding sickness than many power boat occupants. The Mac26x, owing to the flat planing portion of its hull, is stable at rest and hardens up like a keel boat when on a modest heel under sail. Hence, it is likely that when operated by a skilled captain, these cruisers may be one of the least likely of the mono hulls to contribute to sea sickness.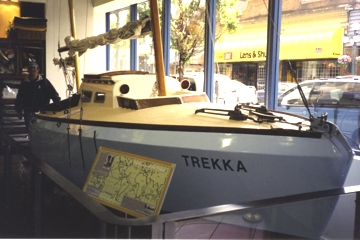 In 2000, I was fortunate in meeting the builder of Trekka, John Guzwell, a year or so after his first ocean crossing in his new boat Endangered Species, a water ballasted sloop. So I asked him about water ballast. In the 1950's Guzwell bolted an iron keel to the bottom of Trekka prior to circumnavigation. The sailor confided that even today he prefers the feel of a substantial keel to water ballast. In fact, Endangered Species has both water ballast and a weighted keel. There is no rule preventing such a combination, though many publications like to imply that water ballast is just for vessels that can be trailered. Large Hunter cruisers now combine small traditional keels with water ballast. (See Hunter HC50)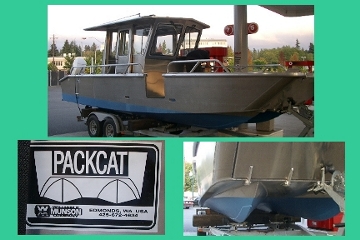 Regardless of Guzwell's preference, I suspect that, like Trekka's bolt on keel, weighted fin keels, even when retractable, should not be viewed as desirable on ocean going craft. In 2002 a Potter sailed to Hawaii from Berkeley California without noticable wear. After being shipped back from Hawaii, the vessel was dropped 5 feet from a lift into the waters at the Berkeley marina with significant structural damage being the result. The damage was apparently caused by the centerline weighted foil in spite of it being in its retracted position. Guzwell was never happy with the bolt on keel for Trekka and thought the designer could have done better. To be fair to the designer, several keels had been proposed including a twin keel shoal draft design that would have allowed Trekka to sit upright in dry bays. Better likely has been done with the Mac26x via its centerboard/ water ballast system. This unique catamaran-like-ballast-tank inner hull design allows this vessel to launch and work in the shallow waters as low as 9 inches as well as open-ocean not unlike a PacCat.